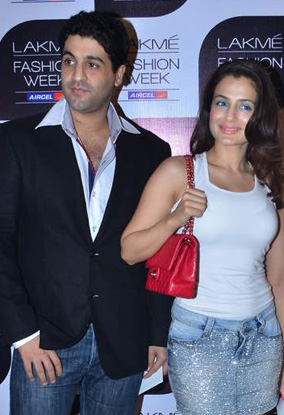 Ameesha Patel really does need to start reading fashion magazines because honestly what is she wearing? A sparkly denim skirt and a cheap vest top are never great pieces to wear anywhere, let alone Lakme Fashion Week! Ameesha also managed to make her Chanel handbag look tacky too!!
Kunal Goomer's blazer looks too big on him and the white shirt doesn't look too great either. Normally the blazer jean look is a great look for guys but not in Kunal's case, his outfit just looks cheap!
Verdict – Ameesha Patel is a fashion disaster and Not Hot!
Kunal Goomer is Not Hot!