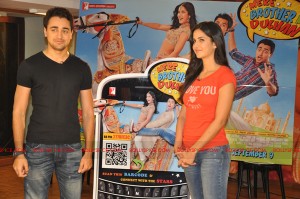 Yash Raj Films has launched an innovative first of its kind campaign to promote the movie via Blackberry Messenger. 'Mere Brother Ki Dulhan' will be the first Bollywood film ever to cash in on the latest craze that has gripped the nation – Blackberry Messaging.
With the number of people who exchange their Blackberry PIN daily, Yash Raj Films looks to establish a connection with a large part of the world's mobile population. As part of their campaign, fans connected through Blackberry will receive direct updates, messages and exclusive content about the movie and the stars and can stay connected with the movie on-the-go.
This innovation allows Yash Raj Films to not only reach out to a larger captive audience base but also have their campaign working on one of the fastest, relevant and relatable medium of communication in today's mobile driven space.
To connect with the stars of Mere Brother Ki Dulhan, either add PIN: 227BFE3C or scan this barcode to get the latest updates.