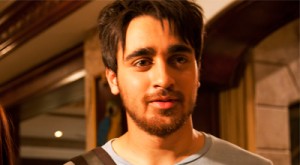 It is becoming a bit of a tradition that close to the month of July I get to talk to Imran Khan, who really is one of the coolest actors to interview! This time our chat was about the upcoming Delhi Belly, a film he feels very passionate about. The actor says that from the first narration he knew he had to be a part of Delhi Belly, no matter what. The interesting thing is that this film was shot in 2008-2009 and only now is releasing, but from what we have seen from the promos it will fit much better in the 2011 Hindi film spectrum than perhaps being ahead of its time in 2008/2009. Delhi Belly is a comedy with a totally different sensibility; it is rough, there are mobsters and chases, the humor is delivered completely deadpan and, according to Imran, it is absolutely hilarious! In a fabulous conversation Imran chatted with BollySpice about Delhi Belly including working with his co-stars Vir Das and Kunal Roy Kapoor, those fab song promos, and how he hopes this film will change the way Hindi cinema is viewed.
Why this Film?
Well, see for me, I've always grown up being a fan of films like this, you know, Quentin Tarantino, Guy Richie. For me, Lock Stock and Two Smoking Barrels was kind of a landmark film. I watched it when I was 15 years old. It was one of those films, which made me sit back and made me go, 'whoa!' I've always, always, always wanted to be a part of a film like that, but the truth is we don't do stuff like that in India. When Delhi Belly came up it was the first time that someone was not only doing that, but also doing it in an Indian context. See, the thing about Pulp Fiction is that you can't translate into Hindi and make it because it is an American film. Lock Stock is a British film and it has to be set in London – you can't try and make it in India. What Akshat Verma has done with the screenplay of Delhi Belly manage to do that in an Indian context, so Delhi Belly, besides being in that style and having that treatment and those sensibilities, is still an Indian film.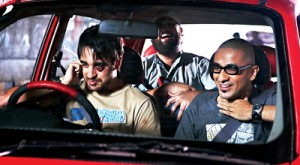 The Story and His Character
I play Tashi who is a journalist, and Nitin, who is played by Kunal Roy Kapoor, is a photographer. The two of us work together and we share a flat with Arup. Arup is a graphic designer working in an ad agency. These three guys are kind of in dead end jobs; they want to do more, they want to do something bigger, but they are not quite sure how to do that. In the meantime, Tashi has a girlfriend and there is a lot of pressure for them to get married, but he's not sure whether he wants to. In the middle of this, Kunal gets a very bad case of "Delhi belly" [food poisoning – ed.] and as a result triggers off a series of really strange events that get the guys caught up in a very big criminal scam-heist kind of thing. From there on out it's everyone trying to kill everyone – everyone on the run and the three guys having just no clue of what is going on.
Auditions x5
You know, I actually did my first screen test for this film in around mid-2006. It was picked up for production the same time as Jaane Tu – they had officially gone into production at the same time. While we prepped for Jaane Tu and about a month before we started shooting I had my first meeting with Akshat and did my first screen test for Delhi Belly. Over the next two years I would go on to do four more auditions. I met two casting directors and two directors because the director changed as well. There was a point in the middle where there was a Swedish director named Robert who was attached to the project. So I'd screen tested for him and then I had to come and meet Abhinay and test for him. Abhinay said I was too young. He wanted to make the film with guys who were in their mid-30s, so I got rejected.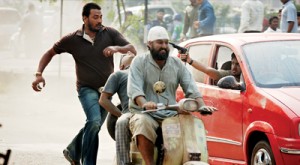 You know what happens is when you do an audition…you do a screen test…and come out thinking, 'Dude, I killed it! I nailed it! They are going to call me in like half an hour and say your on!', and every time I would go out and days would go by and I wouldn't hear from them. Then a couple of weeks would go by and then in the next couple of weeks you would start to hear that other guys are being called in to screen test and you think 'ah, man…I hope I get it. I hope I get it'. A month goes by and you just know that you haven't got it and then you go into this massive depression. But then you kind of start to say, 'Okay fine, you know what, it's okay. I didn't get it…I didn't get it. That's okay, I'll get something good later on'. Your self-esteem starts to climb up a little bit and just around the time you get your self-esteem back they call you up and say 'Hey Imran, we're going to need you to come and give another screen test.' The whole thing starts over again and this happened to me FIVE times. Every time you just come to terms with the fact that you haven't been selected and you just managed to move on and get it out of your system you get called back. I was called in five times, Kunal had to do five tests, and Vir got called in nine times!
Working with Vir and Kunal
I think it couldn't have possibly been better. You know the final screen test that I gave was with Vir and Kunal. It was the final call back for all three of us. That one screen test I walked out of praying, 'I don't know if I am going to get it, but I know these two guys are going to get it.' They later told me that both of them said exactly the same thing. Vir said, 'I don't know if I am going to get it, but I am sure Imran and Kunal would get it' and Kunal said that he was sure that Vir and I would be selected but he wasn't sure about himself.
You can tell that you guys have connected not only in the film but also in the promos where you are just talking about the film.
Yeah, it was great fun, man. We got on like a house on fire.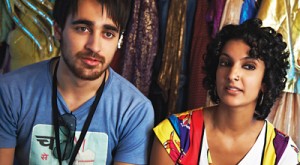 I think these two guys are very, very fine actors. I think Vir would agree with me that Kunal is the best actor in the bunch. The guy is just spectacular and he's got such an exciting role in the film. The character that he plays is quite a dirty, sleazy guy and is quite creepy and filthy. Kunal did it so beautifully, and if you meet Kunal in real life the guy is like a giant teddy bear. He's like this really sweet, soft, squishy guy. He's married with two kids. The girl that he married he's been with since he was 12-13 years old. I mean, he's so unlike his character that it's insane.
For me, the process of working with such good actors pushes you to work much harder. It kind of forces you to bring your A game because you are always thinking 'man, I've gotta match up with these guys.'
We also had Vir who is a very, very talented standup comedian. While we were shooting Delhi Belly he was writing his last show 'Walking on Broken Das', and I can't tell you how much of his material he's tested out on Kunal and me. He would come into the trailer in the morning and rattle off a bunch of jokes and see what would stick and what we reacted well to, so we were kind of the sounding board for all the jokes in 'Broken Das'. When I ultimately watched him perform I was like, 'dude, I remember you telling me that, you told us that joke in Delhi!'. It is very interesting to see how the show got pieced together.
Also there's Shenaz and Poorna
The film is primarily about these three boys so the major chunk of the work would be with these two guys. My scenes with Poorna and Shenaz were far less. A lot more with Poorna. Shenaz plays my girlfriend in the film and Poorna is a new colleague who just started working with me and through no fault of their own, both girls get caught up in the same mess that we are in. It got quite interesting towards the end when we had all of them around.
Director Abhinay Deol
Abhinay made Delhi Belly before he made Game, so Delhi Belly is actually his first film, but you didn't feel that way on set. Abhinay has done so much good work in the ad world that I think he had this tremendous ease; you felt like he had a real command on the medium so you felt very confident with him. You felt like this is a director who has experience and knows what he's doing and he really knows to get what he wants out of you.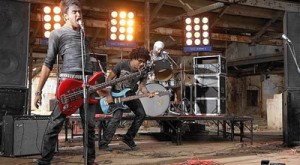 The Song Promos
There is a whole promotional campaign we have done for Delhi Belly that has been a little different than anything we have done before. Originally the film was supposed to have just one song in it, called, 'I Hate You (Like I Love You)' because there's this girl who is a musician, and she's recording a song called 'I Hate You (Like I Love You)', so they said okay, fine, that was depicted and described in the script. The rest of the music was all supposed to be kind of in the background. We had just started to record songs for the background and Ram Sampath, the music composer, came out with these brilliant tracks one after the other. Each track was so good that we would look at it and go 'hmmmm, …you know we should really promote this song. It would be a waste to not promote this song.' Then he would come up with another good one and then we'd go like 'hmmm…ok, I guess we should promote this one as well' and that just kind of lead us into shooting a whole bunch of music videos. Funny thing, all those videos were shot in one go last month
I was just going to ask if were they shot now, or back then?
Last month. You know what? Last month was actually a crazy month for me. I shot seven music videos…last month.
Oh, wow!
Yup! I think three for Delhi Belly and four for Mere Brother Ki Dulhan. Because we had pretty much finished shooting Mere Brother Ki Dulhan, we only had songs left and they said we'll shoot the songs back to back. So, literally, I shot two songs for Mere Brother Ki Dulhan and then I came and shot three songs for Delhi Belly then back to Mere Brother Ki Dulhan. So in a month I shot seven songs.
Quite opposite genres – your brain must have been going a bit mad!
Yeah, It was nuts! I've never danced so much as I did last month.
Are you more comfortable with it?
I've gotten so much better. I've gotten so much more comfortable with it. I think the major part of it is just being comfortable and just being confident about it. And I've got to say I've really surprised myself this past month.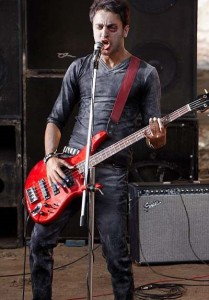 The Music
There are a couple of songs that I think are really great. One is a song called 'Saigal Blues' because it was made in this incredible old fashioned Ghazal style, with this heavy blues guitar and then also 'I Hate You Like I Love You'. That song is just such an out there song. It's crazy, it's ridiculous, and it's hilarious. Have you heard it? Have you heard the little voice over in the background? 'Shake that biscuit baby! Shake it for me!' (Laughs). These weird things in the background. It's hilarious. With that he's taken these 70's and 80's Bollywood sounds and mixed them with some disco. There's so much going on.
I actually love the 'Bhaag DK Bose' song…
DK Bose is an excellent, excellent track. I mean, it's a straight up punk rock. It's a proper punk rock track and that is the style of music that I love. I am a huge rock fan, and for me getting a chance to do a video like that was like living out every fantasy I ever had!
The Humor
The entire tone of the film is that everything is a joke but we are not addressing it as a joke. It is all played straight faced and deadpanned; nothing is played for a laugh. Every joke, every funny line is kind of a throw away; we never address the fact that we are making a joke. Very often people will not be able to tell when we were joking. We are doing the same thing in the PR campaign as well. From the interviews to the promos everything, anything which seems odd or that is weird is a joke. The 'Nakkaddwaley Disco, Udhaarwaley Khisko' video – we played the video entirely straight faced, so a lot of people didn't get it. They are like, 'What is this, serious? Are we supposed to laugh? Are we not? What's up?' You know everything that we are doing we are doing with a straight face, and I love it because that's how my sense of humor is.
Best Thing
For me it really is the humor. Indian films, particularly when you do humor, tend to be very loud, and it is a very broad stroke physical humor, and this film is the just exact opposite of that. It's something that I find straight up hilarious and I'm sure there have to be more people out there like me. (Laughs) All appearances on Twitter to the contrary.
They just didn't get you on Twitter, did they?
Yeah, they really did not.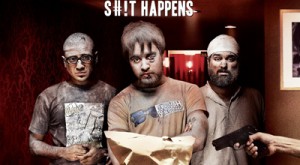 Delhi Belly is an Important Film
I think this is a very important film for the Indian film industry because this is the kind of film that, if it works, will encourage people to try new things. I also thing this film has the potential to reach out to the kind of audience who had given up on Indian Films. There are a lot of people here who don't like Bollywood, who are not interested in the kind of films we make. It's sad that we are losing an audience from our own country. I feel that we can reach out to those people, to that audience, and show them we can do good stuff in India. I would like to do that.
What He Likes
I haven't seen the final cut. I saw one of the drafted lineups a couple of months ago and I was actually very happy with it. I'm very, very happy with the film. I think it's a great film. It's one of those times where I've got to do exactly what I want and as such I really like it a lot.
Kareena and Short Term Shaadi
Working with Kareena was a very, very special experience. I've always been a huge fan of hers and getting the chance to work with her was initially quite scary because I had a tendency to kind of look at her and say 'Oh shit, it's Kareena Kapoor!, you know? I did that for a couple of days. To her credit she's the most chilled out star – as if she couldn't care less about her stardom. That actually put me at ease. As for release of Short Term Shaadi, we haven't finished – there are another 20 to 30 days of shooting pending, so I don't know when we'll release that.
Katrina and Mere Brother Ki Dulhan
I've been tremendously, tremendously impressed with Katrina's work ethic. I have to say I've never worked with anyone who is quite so dedicated and who works as hard as she does. I think Mere Brother Ki Dulhan is going to be a very, very relevant film for her; it's going to be a very big film for her. The way she has worked on her character and worked on herself for this film is going to show people what she is capable of. There are a lot of people who think she's just a pretty face, that she's not really an actor. I think this film will shut everyone up – it will show she's in fact a very talented actor! Mere Brother Ki Dulhan's release is Sept 9th.
The madness that is Delhi Belly hits theaters on July 1st but has its world premiere at the London Indian Film Festival on June 30th! I would like to thank Imran for taking the time to talk with me, and say 'catch you in 3 months I hope'! Now back to listening to my Delhi Belly OST! Bhaag Bhaag…