Madhur Bhandarkar is angry – and hurt. One of his most ambitious projects till date, Heroine was one movie venture which had generated enough media interest from the time of its announcement. Having read regular reports of which actress was to play the title role, it was finally confirmed by Madhur and UTV productions that the green eyed beauty, Aishwarya Rai Bachchan was to play the lead role. All was until Ash's reports of being pregnant splashed across all news channels and the next we know, the project's been shelved. Needless to say that for Madhur who had put in more than a year into the script of this movie is not a happy man. Following UTV's statement, Madhur decided to come forth with his side of the story as to what exactly happened. And, without doubt, that has left the Bachchans fuming.
"Today, I am sitting alone in my office after the plugs being pulled off from my film 'Heroine'. My conscience stands clear as I have been honest to my craft irrespective of the repercussions. No which way would I have trampled my dream project on which I have given my sweat and blood for almost 1 1/2 years. This was going to be my most ambitious project of my career," he told a Bollywood media site. Madhur said that he respected every woman and their right to becoming a mother but he felt that if Ash had told them about her pregnancy then they would have been able to prevent the huge losses suffered because of the shooting schedule. Hinting slightly than many women do continue to work through their term, he added that she would have been around 6-7 months by the time they would have completed their remaining 65 days of shoot which would have affected her physical look as well as her emotional output during acting as a Bollywood Diva. "My wife, when she was carrying my daughter, worked through her pregnancy, but in the same breath I would like to say that I will never knowingly put a woman in harm's way knowing the delicate nature of her health. My entire career stands on the strong pillars of women oriented films. This stems from the fact that I am sensitive to the entire aura and mystique of a woman and womanhood," said the director of woman oriented movies like Fashion, Chandni Bar among others.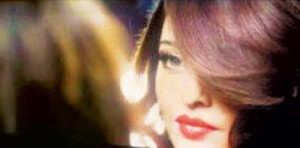 Madhur, who came to know of the pregnancy from the news channels, said that he was angry not only because his movie got shelved but also because he now realized how much danger there could have been during the strenuous shootings – if anything would have happened to her he said he would have considered himself guilty too. The movie has intense emotionally and physically challenging scenes; scenes which require smoking, shooting among mobs and hard terrains. And then again he said he felt sorry for the crew associated with the movie because at the end of the day their bread and butter depended on this venture.
No doubt seeing your tremendous hard work go to waste would anger anybody but then again sources say that this might not be the entire true story. While Amitabh insists that there have been no losses – and certainly not the amount quoted by Madhur – the director says otherwise. Madhur states that his concern is for the safety of his lead actress but many believe that his underlying issue was that the audience wouldn't accept a pregnant woman as a lead – what with him clearly stating," Cinema is a visual medium and keeping in mind the physical state of the actress, the total interpretation of the character of a diva and the story would land up in major jeopardy post 65 days of her pregnancy." But then again there's the fact that Ash was four months pregnant at the time of the announcement which means that if she knew about it earlier, then as a professional she should have notified the producers.
Knowing Aishwarya, she will stoically remain silent and refuse to clarify or comment to avoid fuelling the controversy, which means that the issue will quietly die down soon. But we wonder if Madhur will ever let go of his grudge against Mrs. Bachchan for 'hiding the truth'.