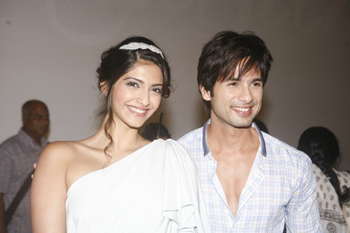 Pankaj Kapur who had wanted to direct a movie since many years finally got his wish fulfilled with Mausam, whose first look launch was held at PVR Juhu, Mumbai on 11th. Along with actor wife Supriya Pathak were present the lead pair of the movie Shahid Kapur and Sonam Kapoor. Sonam looked extremely gorgeous in her Grey Emanuel Ungaro one shoulder draped gown while Shahid wore white seemingly to co-ordinate with her! "Sonam doesn't entertain people whose fashion standards don't match hers. You have to dress and look a certain way to get her approval. During the making of the film, I educated myself on fashion. I hope I have her stamp of approval now," he said jokingly. The two were seen sharing an amazing chemistry with each laughing at the other's jokes which brought the media to the topic of their so-called tiff. Sonam refuted the story and said that in fact being a shy person she usually doesn't talk to her co-stars but with Shahid she was comfortable. "People think Shahid is shy, but I'm more reserved than he is. We met during the ball dancing rehearsals in Scotland and got to know each other while learning to dance. Our only arguments revolved around the clothes he wore. We have never had a major fight," she clarified to which Shahid added, "We have a love-hate relationship."
Mausam is a love story which chronicles the life of Harinder 'Harry' Singh aka Shahid and Ayath i.e. Sonam Kapoor. Shahid was very emotional about the movie as he said, "This is a very special moment for all of us, our family, Sonam and the producers. It has been quite a journey. I have given a year and half of my life to this film. It has been a very emotional moment for us. While I was driving from home, I was nervous and my palms were sweaty. I was wondering why I was so nervous. This film just means a lot more to us than just a film." Sporting a moustache in the movie he said that he wasn't very sure of it but his father Pankaj convinced him that most Air Force pilots (a character which he is playing in the movie) have moustaches. And for those wanting to see his eight packs in the movie they are in for a disappointment. Sonam said, "He is the best dancer, so we tried to convince Pankaj sir to let him to do an item number to showcase his eight-pack abs." "Since I play an Air Force officer in the film, I suggested we do an item song around an aircraft to show off my body. But Dad refused," he added.
Check out the brand new trailer of Mausam and pics from the event!