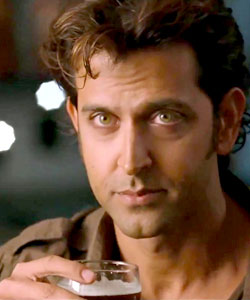 Zindagi Na Milegi Dobara has hit theaters and is getting fabulous reviews from critics, from the industry and most importantly from Hindi cinema fans.  In fact, as we have been reporting, it is doing outstandingly not only at theaters in India, but ZNMD has had the highest opening of 2011 for a Hindi film overseas. Directed by Zoya Akhtar, the film stars a cast of talented actors including Farhan Akhtar, Abhay Deol, Kalki Koechlin, Katrina Kaif and Hrithik Roshan. It is the story of three friends, of love, of fun, and of adventure all on a trip of a lifetime.  Though he has been crazy filming Agneepath, judging Just Dance, and, of course, the promotions for ZNMD including a road trip, Hrithik took time out of his schedule to answer a few of our questions about the film and what he thinks makes it so special.
What was it about this role and this film that made you say yes?
Everything about this film project appealed to me – the fact that I would be working alongside two dear, and hugely talented, friends of mine again (Zoya and Farhan) and that the script was completely fresh and innovative for Indian cinema. Zoya is a very respected director from the new wave of Indian filmmakers who are really changing the landscape of Indian cinema.
Tell us about your character Arjun and what makes him tick.
I play the role of 'Arjun', a London based financial trader. Arjun, lost his father when he was really young, this has made him really tough and extremely driven and focused. I would say that this was quite a challenge, in respect of portraying a very human character, who goes through life experiences that are very natural and also experiences range of emotions. In such roles, you're conscious to not overplay or over-accentuate any facets. You want audiences to empathise with the character and be able to relate to it. There can be a fine line between a very natural portrayal and over-playing it.
With each new role you get inside the character, how did you for Arjun?
As an actor it is very important to immerse yourself into the character, to get the right emotions on screen. Like I said earlier, this is a very human character that goes through range of emotions, so for Arjun I had to really understand the kind of person he is to be able to perform convincingly.
What did you like about playing him?
I had so much fun doing this film and performing this role that I can't pick just one thing. But, I would like to say that this film is very close to my heart – it's an experience I will cherish all my life.
Tell us about working with Zoya Akhtar again.
Zoya Akhtar, as well as being a close friend, is a very talented filmmaker. As soon as I read the script, I was totally convinced about doing this film, so, I jumped at the chance of working with her again. It is a completely fresh and innovative Indian film offering – I expected no less of Zoya.
How is it to work opposite Farhan as an actor rather than a director?
He is a thorough professional and it's always fun working with him, be it acting or directing. There was not even a single moment where I didn't enjoy being on the sets.
How is to work with Abhay?
Really great – equally a thorough professional, his acting style is very cool and fresh. We got on very well.
From the promos it really seemed as if you, Abhay and Farhan bonded on the sets. Farhan told us you had private jokes that you would use to make each other laugh.  Can you tell us about that?
Oooh not sure if its right to reveal them! As far as Farhan's mischievous antics go, I guess you could say that there was never a dull moment.
You also worked with Katrina for the first time. How was that experience?
Katrina is a great artist and a wonderful human being. I guess it was a case of the right script presenting itself and she was certainly perfect for the role. We had a great time working together – as well as being a hugely talented and committed actor, she is a very sweet person. She was a joy to spend time with on set, as well as all of us hanging out together once we'd wrapped for the day.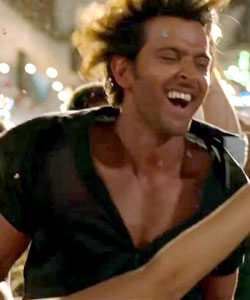 What do you think is the best thing about the film?
It's ability to connect to a wide range of audiences – from young to old – and how in particular it resonates very well with the professional, aspirational 20 something male and female audience which sometimes a lot of our films overlook. From the music to the screenplay, the film is very fresh with a strong human element.
Did you take away anything from playing this character?
Yes – I have always been conscious of creating that work–home life balance as much as possible – this film reiterated the importance of nurturing relationships and friendships above and beyond all else.
Shot on location in Spain, what was it like to shoot there?
It was awesome – breath-taking landscape, big-hearted people and steeped in history and culture. Barcelona is just amazing and extremely rich in culture and beautiful architecture too.
Your favourite song from the outstanding soundtrack?
I would say 2: 'Sooraj ki bahon mein' – since its full of masti/fun and 'Senorita' as it was great to record the song. Both are filmed beautifully.
What are audiences going to love about Zindagi Na Milegi Dobara?
The film will appeal to audiences of all ages, male and female. It's a film that I think will make a connect with everyone as it is a very human and relatable film. It's feel good, has a strong message and is a beautiful film work. Obviously you all will be the judge of that, but I have full faith that you will love this movie. We collectively put our hearts and souls into this film – it was a labour of love for the entire cast and crew – and I'm sure that will reflect on screen. I do feel the film's USP is Zoya's magic touch. The film is a completely fresh and innovative Indian film offering – I expected no less of her.
Zindagi Na Milegi Dobara is in theaters now!