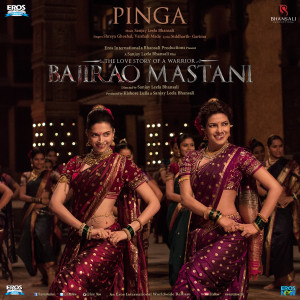 The much-anticipated song from Bajirao Mastani, Pinga, features the film's leading ladies, Deepika Padukone (Mastani) and Priyanka Chopra (Kashibai). Now that we have seen the stunning video, it boasts, as we expected, extraordinary visuals, artistic camerawork and mesmerising choreography.
Reviving the regal era of the Peshwas, Deepika and Priyanka both donned colour-coordinated, Nauvari sarees. The three-minute song was choreographed by Remo D'Souza over 12 days, leaving Deepika and Priyanka only 10 days to rehearse! In true Sanjay Leela Bhansali style, Pinga was shot on a grand scale with over 50 background dancers. Pinga sees Priyanka and Deepika dancing gracefully in unison, depicting the bond between their characters.
Earlier, talking about the number Bhansali said, "It is a lavni composed folk song and a lot of work has gone into the sets and the picturization of the song. Both Priyanka and Deepika have worked extremely hard on the song and rehearsed long hours for it."
The dance form is based on traditional folk dance of Maharashtra, Remo D'Souza explained in an earlier interview, "We stuck to the traditional dance form as Bajirao is set in old times and required that kind of earthy choreography. We found an old lady who had good knowledge of the dance form and she showed us how it was traditionally done and what it meant. We didn't want to play around with it, as these dance forms are just wonderful in their original form. Deepika and Priyanka have worked really hard on it."
Talking more about the number D'Souza told PTI, "Though it is essentially a lavani number, it would not be wrong to call it a mix of folk and classical dance as well. It is never easy to work with SLB as he wants nothing short of perfection. Also, with the costumes, it is never easy to choreograph or perform for the actresses. This one has two actresses so it will require absolute perfection and synchronization."
During the rehearsal before the shoot Remo would not pick a favorite, "Both are fantastic dancers so it will be difficult for me to pick and choose as to who is better. I have known both of them for a long time. Their chemistry is fantastic and they are both rehearsing very hard."
Dedicating the dance to Saroj Khan, the choreographer said, "She is my inspiration for anything classical."
Apparently the two actresses got on well during rehearsals and during the long shoot for the song. In fact at one point the director was looking for them and they were sitting and laughing together while they waited for the shot to set up. We also know this from the tweets the two actresses shared during the shoot about killing it on the dance floor. It seems the friendship is still going strong even to this day because most recently the two actresses sent Diwali gifts to each other.
Superbly choreographed, expertly executed and beautifully shot, Pinga is certainly one to look out for. Eros International and Bhansali Production's magnum opus Bajirao Mastani starring Ranveer Singh, Priyanka Chopra and Deepika Padukone will release on December 18th.
In case you missed it, check out Mastani and Kashibai killing it full on classical style!