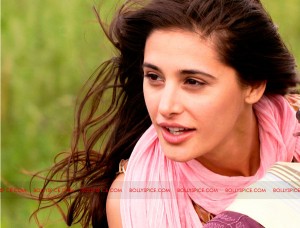 Nargis Fakhri is one of the most talked about debutants in Bollywoood today. After all, she's making her big screen debut opposite Ranbir Kapoor in Imtiaz Ali's Rockstar.
But not many people knew her when she had just begun filming with Ranbir. That's when she found herself in a rather funny situation with her co-star's parents.
The team had just commenced shooting in Delhi and Ranbir's parents, Rishi and Neetu Kapoor, had come to visit the team on the sets. They were staying at the same hotel where Ranbir, Nargis and the other crew were put up.
Incidentally, Rishi and Neetu Kapoor were catching up with Imtiaz in the hotel lobby on arrival when they spotted a beautiful girl sitting across the hall, talking to someone. They were so captivated by her ethereal beauty and good looks that they immediately drew Imtiaz's attention towards the girl and exclaimed that such a pretty girl should consider making a career in Bollywood. Imitiaz chuckled, telling Rishi and Neetu that she is indeed making her debut in Bollywood, and that too opposite their son Ranbir! That's when the Kapoor couple realised that the girl sitting in front of them was Nargis Fakhri! An amused Imitaz immediately called Nargis over and introduced her to the senior actors.
Later when the incident was narrated to Ranbir, they all shared a good laugh over it!