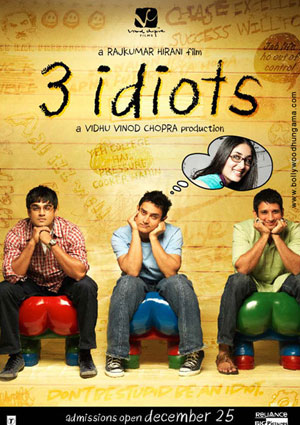 The Aamir Khan, R.Madhavan, Sharman Joshi, Kareena Kapoor and Boman Irani starrer has everything the audience wants: drama, emotions & comedy .The film has something to offer to all age groups and had appealed to the audience worldwide. This iconic movie has a simple underlying message : Aal Izz Well.
Reliance Home Video makes available this blockbuster on the digital mainstream medium aiming to enthrall fans and audiences online by releasing '3 Idiots' movie, in association with Vinod Chopra Films, on YouTube, the world's largest online video site. The full movie will be showcased on youtube.com/ box office starting June 30 and will be available for free-viewing to audiences in India for a period of 1 month. The movie will be available in full HD (1080 px). Viewers with low broadband can view the film at 240px for smooth buffering. Users will also be able to enjoy short clips from the movie – popular scenes and other exciting footage from the making of the movie.
Produced by Vinod Chopra Films and directed by Rajkumar Hirani, this ultimate entertainer has broken all global box office records. It was the highest-grossing film in its opening weekend in India and has the all-time highest box office collections for a Bollywood film.
Sameer Rao, CEO of Vinod Chopra Films said that "3 Idiots has become a landmark in India's modern cinematic history. VCF was keen to make 3 Idiots available to the online audiences as early as 2009, it is only now that a legitimate platform with the size and scale of YouTube Box Office has come into being. We have worked with Reliance Entertainment before and find that they were taking the right steps to connect with the online audience. Online Video on Demand is the way to go and VCF is happy to take a step in this direction.
On the release, Sweta Agnihotri, COO of Reliance Home Video has to say, While we are dominant players in the Home Video segment, we realize that the Internet is the new TV for the ever connected youth today. Our vision is to make our content available to Indian consumers across any screen, any where and at any time of their choice. As a part of our digital foray, getting a Blockbuster hit like 3 idiots to YouTube viewers in India is a big step for us, in terms of experimenting with this novel distribution method. We look forward to a strong and ongoing partnership with VCF and YouTube, India."