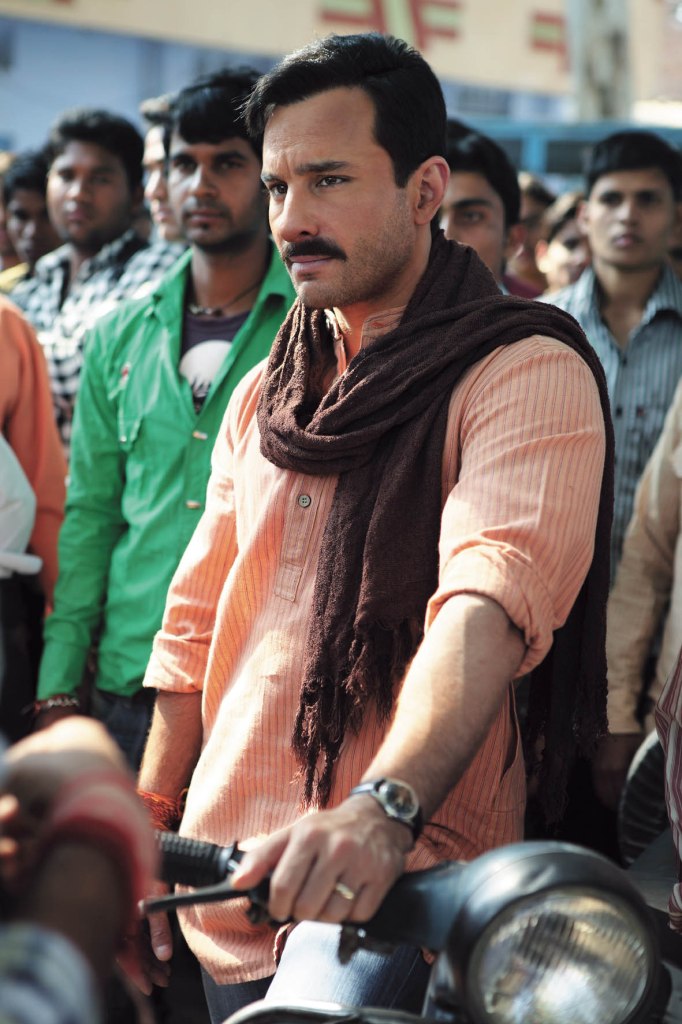 Imagine being stranded in the streets of Bhopal and who comes to your rescue to give you a ride but lead actor, Saif Ali Khan, who also happens to be the Chhote Nawab of Bhopal? This proved to be a real crowd pleaser during the shoot for Prakash Jha's forthcoming film, 'Aarakshan'. Every day, a huge crowd gathered outside his hotel and at shooting locations for a glimpse of the actor.
Saif would meet his fans without any starry air about him. Besides signing autographs and getting himself photographed, the actor went out of his way to oblige fans by giving them rides and lifts in the midst of shooting, on the bike that his character uses in the film. While the sets of 'Aarakshan' were being set up, Saif would give locals a ride to nearby locations, which proved slightly troublesome for the production team, as sometimes it was hard to trace him. Prakash Jha jokingly named Saif's bike 'Basanti'  which rightly fit, as he was spotted taking on not one or two but four passengers at a time. The ease with which Saif mixed with the crowd even surprised his leading lady, Deepika Padukone, who at one point became quite nervous over the numbers that would show up to see their Chote Nawab.
Saif commented, "I quite enjoyed the shooting in Bhopal. It gave me a chance to connect to my childhood time spent there and with the local people."
From the makers of Box Office superhit, 'Rajneeti', 'Aarakshan' is a high voltage, socio-political drama based on one of the most contentious Indian government policies of caste-based reservations in government jobs and educational institutions. The film stars veteran of Indian cinema, Amitabh Bachchan, alongside the formidable Saif Ali Khan, beguiling Deepika Padukone and rising star of the Indian screen, Prateik.
Prepare for a controversial exploration of the corruption and caste discrimination that continue to hold back one of the world's emerging superpowers and tie it to the dark ages, as Reliance Entertainment's 'Aarakshan' causes waves across the nation and beyond from 12th August 2011.