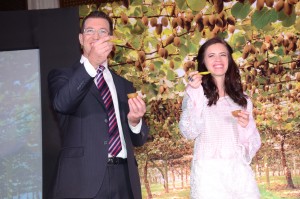 The who's who of Mumbai​'s ​F&B world ​made their way t​o​​ ​Worli​​ ​for the​ official Indian​ launch of ​the deliciously sweet and juicy Zespri SunGold Kiwifruit​.
​​Present were Bollywood​ actress ​Ms. ​Kalki Koechlin, Celebrity Chef ​Mr. ​Ranveer Brar, Ace Nutritionist ​Ms. ​Pooja Makhija ​, ​Zespri's Regional Manager ​(MEIOA)​ – ​Mr. Ben Huges and ​Zespri's country manager – India ​Mr. Ritesh Bhimani amongst many other​ prestigious guests. ​10 years in development, Zespri ​Sun​Gold​ Kiwifruit is ​full of vitality, juicy, golden-fleshed ​and a ​new variety ​that ​has a refreshing sweet taste ​perfect for the Indian pal​e​​t​te​.​ It is thus no surprise that everyone loved the fruit at the launch!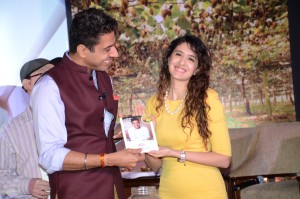 ​A video presentation was the perfect start to the evening and ​​​the fruit was unveiled amidst much admiration, fan fare and a huge round of applause. One of the highlights of the evening was a​ unique cook-off session where Chef Ranveer ​demonstrated a special SunGold Kiwi​fruit​ Martini for the season – which Team Kalki and Team Pooja recreate​d​, with the help of ​volunteers from the audience​, in under 5 minutes! Both Kalki and Pooja were up for the challenge as soon as Chef Brar proposed it, and Zespri ​was​ extremely pleased to facilitate the same.​​ ​
The correct way to eat a kiwifruit was also demonstrated – a 3 step process to cut, scoop and enjoy the fruit! The evening also saw this as a unique toast ​for one and all to celebrate the introduction of this glorious fruit. ​The evening turned out to be fun filled with ​great​ food, drinks,​ music​ and of course, delicious SunGold Kiwifruit​!
​The Zespri SunGold Kiwifruit has made it's way to the Indian market and is also available on www.bigbasket.com.