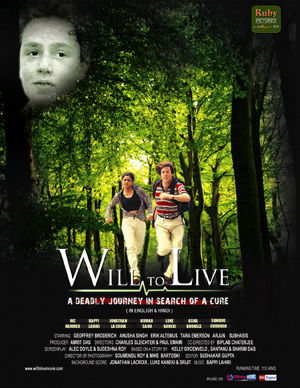 'Will to Live' is the new genre film of cross cultural appeal. This is an Indo-American production which has been shot exclusively in California and dense jungles of India. A score of Hollywood and Indian filmmakers were involved in this feature film.
Synopsis
'Will to Live' is inspired from a true story. It's the fight of a courageous father for his son ailing from Lymphoma (Cancer). Against all odds, an American father makes his adventurous journey into jungles of Himalyas in the quest of a rare herb that may cure his son's Cancer. He has been given a ray of hope for his son. Battling the depths of the jungles, greed, power and corruption and risking his own life, he tries to fight fate itself. The story explores the intensity of a father's love. How far will a father go to save his child's life?
Comments the producer Amrit Das, "I have always had passion for media and this what has brought me to film making. I have already produced a number of productions for Television in US and Indian market. My love for my own country has brought me back and recent surge of Bollywood industry in the world market fascinated me. I have already made Bengali films but Will To Live is our first Bollywood film. As a global entrepreneur I believe that one day Bollywood industry will take over Hollywood and India will dominate the world entertainment business."
Music is the soul of the Bollywood films and for 'Will to Live' renowned Music Director Bappi Lahari has created a perfect fusion of Western and Indian music. International singer MC Hammer has sung the title song of the film. Other voices are of Asha Bhonsle, Sunidhi Chouhan, Kumar Sanu Sharon Prabhakar, Reema Lahari and Mamta Sharma. For the first time in India, English and Hindi songs have blended together in one Album of 'Will to Live'.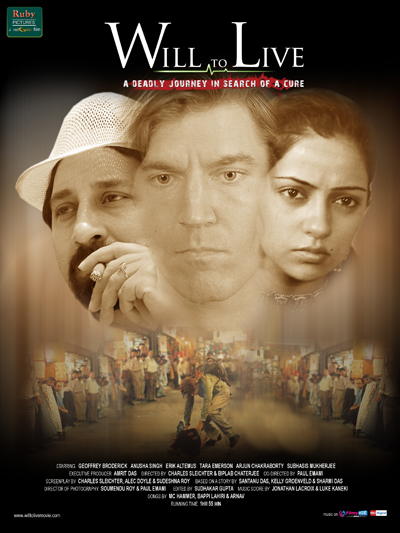 "Foreign Productions, on Indian subjects, are making a great impact in world market. Slumdog Millionaire is a classic case of that. I have seen preview of Will To Live– an Indo- American production and I believe it will be a bigger impact than Slumdog Millionaire." – Surajit Dhar, A prominent Indian Film Director
Technical Details:
Banner – Ruby PICTURES (A netGuru Film)
Executive producer- Amrit Das
Director – Charles Sleichter & Paul Emami
Co-Director – Biplab Chaterjee
Screenplay – Alec Doyle & Sudeshna Roy
Based on a story by Kelly Groenveld, Santanu & Sharmi Das
Director of Photography- Soumendu Roy (Satyajeet Roy's Cinematographer) & Mike Bartoski
Editor – Sudhakar Gupta
Background Score – Jonathan Lacroix, Luke Kaneki & Srijit
Choreography – Longinus Fernandes (2nd Hollywood venture after Slumdog Millionaire)
Media Consultants – NR2-The Image Engineers
Starring – Geoffrey Broderick, Anusha Singh, Erik Altemus, Tara Emerson, Arjun Chakraborty, Subhasis Mukherjee, Pallavi Chatterjee.
Music
Music Director- Bappi Lahiri & M.C. Hammer
Lyrics – Sudhakar Sharma & M.C. Hammer
Music on- FilmyBox Music
Singers – M.C. Hammer, Asha Bhonsle, Sunidhi Chouhan, Kumar Sanu, Sharon Prabhakar, Reema Lahari and Mamta Sharma
Running Time – 1 Hr 55 Minutes