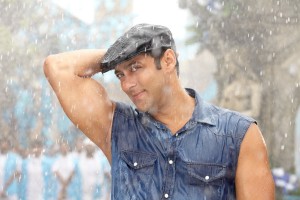 Salman Khan. His name is synonymous with Hindi Masala cinema and blockbuster films. This actor can do action, he can do comedy, he can do drama, and he can even do all three at the same time. He can dance and he most definitely can romance and it is all done in that Sallu signature style that make audiences whistle and clap. With Bodyguard, he once again delves into this genre and brings to the screen all that filmi goodness, but from what we hear, he even adds a few surprises as well! Directed by Siddique, Bodyguard is the third version of the film. It is a remake of the original Malayalam film that was also made in Tamil. Both were huge box-office successes. The action-romance, which also stars Kareena Kapoor, is set to release in theaters on Eid and is predicted to be another smash hit. In the film, Salman plays Lovely Singh, a young man who takes his job as bodyguard to Kareena's Divya very seriously. However, his constant presence cramps Divya's college fun and she hatches a plan to distract him by pretending to be a different girl on the phone to try to get him to fall in love. He does, of course, but then she does too, of course. But, of course, there is the drama and action and Lovely Singh finds himself ensnared in a web of lies, trickery and deceit. Bodyguard is the story of conflict- between innocence and mischief, love and power, and life and death!
Although in a lot of pain and getting ready to go to the US for surgery and in the midst of final promotions for the film, Mr. Khan took time out of his very busy schedule to give fabulous answers to our questions. Read on to see what he has to say about the film, working with Kareena, and what still excites him about acting!
What goes into your decision to do a role in a film?
If I like the script, and if I believe that I can do justice to the role, I proceed with the film. For Bodyguard, I was shown the south Indian versions of the film before taking up the project. It was then that I really liked the script and chose to play Lovely Singh.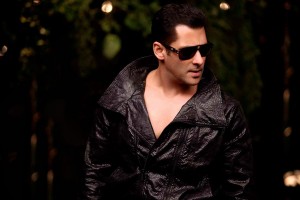 What was it about Lovely Singh that made you want to play him?
Lovely Singh is a strong character in the film. There were drastic changes in the characterization as compared to the Malayalam and Tamil versions. The character that I play manages to pull off comedy, action, romance, and drama very well so I felt it's a powerful role and something different from what I have done in the past.
What goes into your preparation for your roles?
I do not have any specific preparations in place for the characters I play on screen, as I prefer sticking to my style of acting.
What do you think you and Kareena Kapoor bring out in each other as actors?
It has always been a pleasure to work with Kareena. She comes across as a thorough professional and is a lovely lady. She also carries an immensely powerful sense of acting. I have known Kareena since childhood. I just have to forget she is Lolo's (Karishma's sister, with whom I have worked for a long time) sister for a few seconds while we are in front of the camera and she makes our chemistry look effortless on screen. And I guess she believes I let her be her own self and that catapults her acting.
Tell us about working with the director Siddique.
He is very experienced and brought a lot of fresh insights with him. Though this film is the remake of the Malayalam version there are a few alterations in the Hindi version of the character that I play and Siddique has put a lot of efforts into bringing this film to the audience. It was fun working with him and we shared a remarkable level of comfort.
Do you have a favorite song on the soundtrack?
Title track of Bodyguard.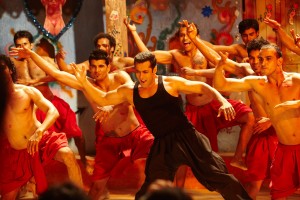 What still excites you about being an actor?
Every time a movie works, the expectations always increase. The hype is always bigger. From music, to acting, to dancing, people always have bigger expectations. I have to go one notch above my previous performance so that I can keep my fans happy.
What are audiences going to love about Bodyguard?
I think it is an innocent love story; it is a mix of action and romance. Probably this will appeal the most to who are waiting see me back in a film like Maine Pyaar Kiya. It is a good balance of emotions, romance, action and drama. It's something very different than I have done after a long a time. Audiences can expect a lot of surprises from this film.
Can you see going behind the camera to direct?
Right now I am happy with what I am doing. No plans of directing as of now.
Hindi cinema is making its way into the world. Please give us your thoughts on that.
It's good that the Hindi cinema is progressing. Being a part of Bollywood, the industry's advancement into every corner of the world will bring happiness to me and many more.
What does your fan's support mean to you?
I have always intended to entertain my fans with my work and in return if they like the film and the response is good, I feel extremely satisfied. I believe the audience is the real critic. I feel overwhelmed when they like me in the films. Being loved by so many fans would make anybody feel on the top of the world and that is what it does to me.
Bodyguard is in theaters on August 31st! Be sure to check out our Kareena Kapoor interview too!