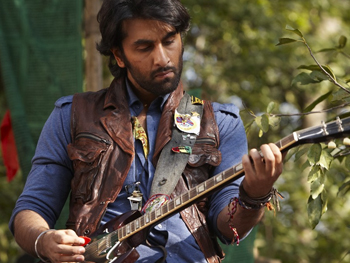 You know, sometimes an actor makes his debut in any film industry, be it Bolly or Holly, and he does not make much of an impression. It is only years later, when he gets that one special role, that you see him for the fine actor that he is. You then look back at his first movies and say, oh that was him? Not with Ranbir Kapoor. From his first moment on screen in Saawariya (2007), you knew he had that indefinable "it" and was someone we would be seeing in great roles for years to come. From Raj in Bachna Ae Haseeno, to the outstanding Wake Up Sid, from the comic Ajab Prem Ki Ghazab Kahani to the full on dramatic epic of Raajneeti, Ranbir has shown how talented an actor he is. He definitely inherited the amazing acting genes from his famous family and continues to hone his skill and challenge himself as an actor. This Friday, will see Ranbir in what he calls a very challenging but rewarding role in the film Rockstar. Directed by Imtiaz Ali and co-starring newcomer Nargis Fakhri, Rockstar is the journey of a boy who traverses the highs and lows of life: from simple naïveté to tortured soul, from the pleasure of unaffected friendship to the torment of unrequited love, from the campus in Delhi to the international stage, he ultimately gets all that his heart has ever desired, but in the process shatters / loses his heart forever. Can we say "wow!" just from the synopsis? From what we have seen in the promos, Ranbir has put his heart and soul into playing this character. On a break from rehearsing for the Rockstar concert with music director A R Rahman, Ranbir took the time to talk with Stacey about his experience on Rockstar. Read on to find out what he told her about working on the film, watching Rahman work, and how he lost himself inside of the role of a lifetime.
What goes into your decision of taking roles?
I think I attribute this to be that I've been lucky and I've been at the right place at the right time. I'm getting the opportunity to work with such eclectic and such brilliant directors that they do half the work for me. I guess more than the audience getting bored of me and typecasting me in a certain way, you know, it's better that I don't get bored and I try and do different characters and be a part of different worlds and different movies.
How did Imtiaz approach you for the film?
It was actually the other way round. Three years back, I'd heard of the idea of this film that Imtiaz was making with another actor, but because of certain reasons that film did not materialize and it got shelved. When Imtiaz came three years later to offer another film to me I reminded him of this film and so it worked in a reverse order: I was the one who approached the director to make the film.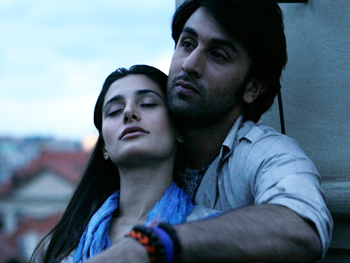 So what was it about Rockstar that made you say you had to be a part of this movie?
First, it was just the opportunity to work with Imtiaz Ali. Second, it was the character and the script itself – it's a role of a lifetime for me. Actors so early in their career don't get such opportunities. I'm bloody grateful that I got to be part of this experience! It's definitely enriched me as a person and as an actor. I've made some beautiful relationships on this film. I'm really, really grateful and excited to be part of this film.
Jordan goes through such a change from college boy to someone consumed with the music. Tell us a bit about his journey and your journey playing him.
The guy I play is Janardan Jakkar. He lives in Delhi. He's from a poor family who live in Pitampura. He studies at the Hindu College. He's a bit of a wannabe rockstar, he plays the guitar, and he sings a little bit; but he's very frustrated because he feels nobody is recognizing the music and talent in him. One day in college, somebody tells him that great music and greatness will never come to him if he doesn't go through a heartbreak or if he doesn't go through some kind of pain or suffering. So him being this immature bum he takes this seriously and he tries and hits on the hottest girl in college, thinking that she'll break his heart. In that process they become really friendly. The film is about their journey in the next 8-10 years; what happens in their love story and how their love story is incidental towards his music.
How did you prepare to play him?
Well, you know, firstly he's a Jat boy so he's a person I've never met. Imtiaz and me felt it was really important to go and live with a Jat family in Delhi, to pick up certain nuances like the way they talk, the way they walk, the kind of clothes they wear, how they are with their families, how they eat food. We went drinking with them. We went dancing with them. It was very important for me to actually feel them and grab some nuances so I could put it in the character. Of course I play a musician, so I had to learn to play the guitar. I'd never played the guitar before, so that was the hard part. I also had the opportunity to go for every music sitting and recording to Mr. Rahman's place, to see how Mohit Chauhan the singer is singing the songs, to watch the guitarists and how and what cords they are playing. The music somehow subconsciously just seeped inside me. It was easier for me as an actor to portray it once I was on set.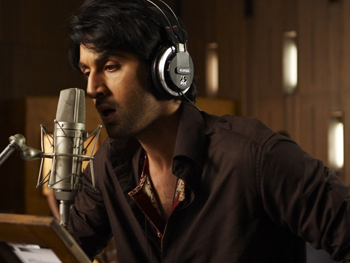 That is really cool that you got to see Mohit singing the songs because then you got to really see what he was feeling when he sang.
Absolutely, absolutely.
How did you get yourself so deep into the character that you lost yourself?
I think it was just the want to surrender to the sheer brilliance of Imtiaz Ali. All of us, all the actors, musicians, the cast and the crew, we all just wanted to be a part of this film and really surrender to it because Imtiaz was really making an honest film. He was making something which he himself surrendered to so much as well. He really gave himself to the film and we just wanted to do the best of our capabilities. It was a hard and a challenging experience. It was a growing experience. But you know after the film was over it was all worth it.
Was it a hard film to come out of once you were done shooting?
Absolutely! I kind of felt detached from everything, my parents, my friends. After the shooting I guess I felt a little empty because I guess we all gave so much of ourselves to the film that you do go through that experience. I guess as an actor, beyond the box office, beyond the awards and the rewards, it's instances like that which really makes it all worth it and makes you realize the magic of movies and the power of cinema.
Tell us about working with your co-star Nargis.
It is Nargis' first film. She's never acted before. She never knew the language. So it was really hard for her. The way she has approached this character being her first film, she completely surrendered, she really felt the emotions. She didn't know the craft of acting and because she didn't know, she didn't have a preconceived notion. She really had to BE that person and so it has really been a grueling experience for her. I am really proud of the level and the dedication that she has shown towards the film. It has been great.
You said that you had sat in all the music sessions. What was your reaction when you first heard the music?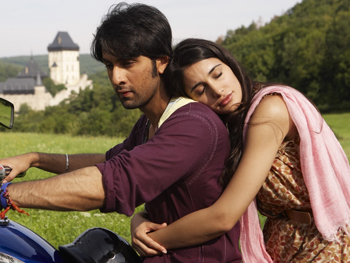 It was very important since I play a musician that I've been a big part of the music: from the conceiving to the execution of the songs. Just the opportunity to see Mr. Rahman at work was such an enriching experience not only as an actor but also as a person, because you get to see the level of dedication and passion he has towards his work. How he works in solitude. The way he improvs. He is like a little child – he loves suggestions. He loves criticism. It was really, really enriching for me to witness that.
Do you have a favourite song?
I'm close to all the songs, you know, the 'Sadda Haq' and 'Kun Faya Kun', but I guess my favourite song is the first song on the CD, 'Phir se Ud Chala'. It kind of defines the character and defines his headspace. It's the first song on the film and it's the first song that we recorded. That song will always be close to my heart.
So what do you think Jordan's favourite song would be?
I think his favourite song would be 'Jo Bhi Mein Kehna Chahun' because that kind of describes him. The lyrics are 'Jo bhi mein kehna chahun barbaad kare alfaaz mere…' which kind of means that 'whatever I'm trying to say my words destroy the meaning of it' and that I guess explains the character the best way possible.
Looking back over the journey of making Rockstar, how was the experience?
It was great. Just the fact that beyond the acting and the creative satisfaction that one feels, it's also that I made such beautiful relationships on the film: I made a friend for life in Imtiaz, I got the opportunity to work with A.R. Rahman, with Mohit, with the lyricist Irshad Kamir, with the entire cast and crew. I think above all I got the opportunity to work with my late grandfather Mr. Shammi Kapoor, which was his last appearance.
What do you think audiences are going to love about the film?
Well, you know, that's very hard to tell. I just hope they give the film an opportunity on the 11th of November. They come to the cinemas and see it. I guess they'll go through a similar experience that we have gone through. You know, I really don't know how to hard sell a film. Just the fact that you guys have watched the promos and you have liked the songs – I'm sure the film will speak to another level.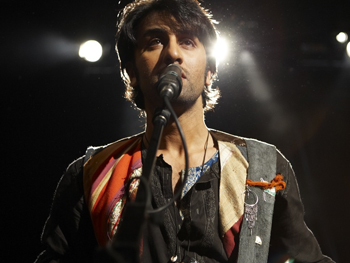 What does your fan support mean to you?
It means the world to me. The fact that I'm talking to you in this interview is only because of them, because of their love and support. I hope that through my movies and through my work I can reciprocate that in any way possible.
What's next for you?
My next film is called Barfee. It's directed by Mr. Anurag Basu. It stars Priyanka Chopra, myself and a new girl called Ileana. It's a romantic comedy set in the 70's. I play a deaf and mute character, but it's not a serious film. It's a fun film along the lines of Charlie Chaplin meets Buster Keaton meets Roberto Benigni kind of a world. So, that should be fun. After that I have a film called Yeh Jawani Hai Deewani, which is directed by Ayan Mukherjee and stars Deepika Padukone and myself.
With that he had to go back to rehearsing for the Rockstar concert! From what I have seen I cannot wait to see Ranbir's Jordan and see him through the journey his character takes in this film. As he said, it is a role of a lifetime and I think he has taken every moment and made the most of it and it will be a performance to remember. I know I will be in line to see Rockstar on 11-11-11!