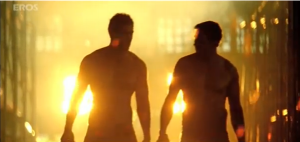 This winter, the hottest buzz in Tinsel town is the glam new look of Bollywood Superstar Akshay Kumar in upcoming comedy Desi Boyz! The first trailer of the UK-set entertainer is already creating waves and hotting up collars worldwide as a scintillating teaser to the upcoming blockbuster. In recent years, Akshay hasn't really accentuated his dashing good looks and Kunal Rawal (his makeover guru) wanted to change all of that for <>i>Desi Boyz, and is extremely excited about showcasing our favourite action hero in this spectacularly sexy avatar!
The Bollywood grapevine is suitably abuzz about this magical makeover for Khiladi Kumar. Co-actress and demure beauty, Chitrangda Singh, is head over heels about Akshay's new hot look and comments, "I am very much inspired by Akshay's fitness. He told me where he goes for a run in the park nearby and I too have started doing that at 5.00am in the morning."
Friend and fellow actor Deepika Padukone said, "I have always found Akshay to be very sporty and good looking. His fitness is unique and I like this athletic and sporty way of keeping fit. He is looking very good in our film 'Desi Boyz'."
Comments friend of Akshay, director and producer, Shirish Kunder, "In an era when practically everyone has 6-packs, courtesy steroids, Akshay is a huge inspiration for all the youngsters as to what could be really achieved with a healthy lifestyle and natural workouts."
Director and friend Farah Khan agrees, "Akshay has always been sexy. He doesn't have to redefine hotness. Like there was Dharamendra, today we have Akshay."
Fashion designer Ana Singh, "He is very good looking, conventionally handsome and can carry most clothes effortlessly. He looks great in formals, casuals and basic stuff."
Recently, fitness fanatic Akshay was also honoured with the coveted title of 'Fittest Body' by respected global media title, People magazine.
Desi Boyz marks the exciting directorial debut of Rohit Dhawan, son of one of Indian's cinema's most prized comedy directors, David Dhawan. Expect nothing less than one of the freshest, most innovative comedies to emerge from Indian cinema in recent times, with Master of Comedy, Akshay Kumar, giving 'Desi Boyz' his inimitable, Midas Touch in the laughter stakes.
Get ready to welcome 'Desi Boyz' in cinemas across UK and worldwide in November 2011.
Those Desi Boyz are looking fine na?