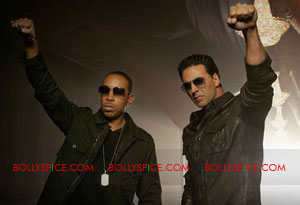 With the completion of his first Indo-Canadian production Breakaway, starring Vinay Virmani, Rob Lowe, Russell Peters, Camilla Belle, Noureen DeWulf and Anupam Kher, Akshay Kumar has become the first B-Town producer to truly aspire for Hollywood.
The movie features music videos with hip-hop stars Ludacris, Drake and Akshay himself, with music being scored by collaborators RDB (Rhythm Dhol Bass) and Sandeep Chowta. He has made huge efforts for the movie to be liked by the masses.
Breakaway is ready for a global release on the 30th of September. One of the world's largest distributors, Alliance Atlantis will take up this film for distribution, which is their first venture with an Indian producer. Treating it like a Hollywood release, with more than 3,500 prints, it will also be the curtain raiser at the Toronto Film Festival on September 10 this year.
The international release of the film is titled as Breakaway and the Indian version is called Speedy Singhs. The story is written by Jeff Schechter and Ajay Virmani with Akshay playing a cameo in it. The movie is directed by Robert Lieberman.

ABOUT THE FILM
In Akshay Kumar's words, "Breakaway is a touching story about a young Indian Ice Hockey player who wants to get into the big league." He adds, "I am introducing Vinay Virmani, who is a very good Ice Hockey player in real life as well. The film is about an Indian family wanting to break the stranglehold the Whites have abroad in sports."