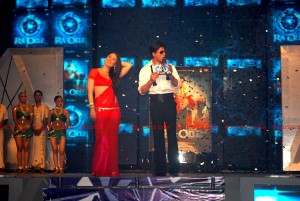 The Ra.One music launch is definitely one that is not going to be forgotten very soon by the industry and audiences alike. No doubt that the music of Ra.One has been one of the most highly-anticipated albums of the year, however the sheer scale of grandeur and enigmatic presence on the stage of the stars has left everyone's jaws dropping.
Shah Rukh Khan was at his usual charming best as he joked and said, "Superman ko apna naam Karan Johar rakhna chahiye."  He grooved with Kareena Kapoor, his female co-star in the movie, to the latest chartbuster from the movie 'Chammak Challo', and while Kareena did look stunning in a blood-red sari, all eyes were eagerly looking out for the well-kept secret that is the character of Ra.One, which is being portrayed by Arjun Rampal..And quite an entry it was!
Karan Johar, Shah Rukh Khan's closest friend in the industry, launched the music album while the film has been dedicated by SRK to the late Yash Johar.
Though we faced an unexpected delay in the start the event, it was probably because of the rains affecting certain portions of the set, built in an open area. And later, live glimpses of the event were shown, as promised, on the official YouTube channel. If the glimpses didn't quite please you, you must watch the entire event to be aired on national televisionvery soon… the funny SRK on-liners & the dance performances will definitely impress you. And national broadcasting means that not only the media, but also the entire fans base can become a part of the celebrations.
YouTube views and comments for the event were at an all-time high, and Ra.One's official Twitter handle even amassed 300+ followers in a matter of 2 hours.
The official release of Ra.One's music album has truly been the perfect gift for all at the end of this festive season.  It truly was worth the wait!
Stay tuned for the exclusive report coming soon on BollySpice!