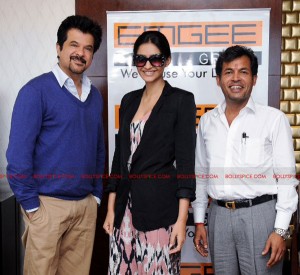 The internationally renowned and most celebrated Bollywood father-daughter duo, Mr. Anil and Ms. Sonam Kapoor, have been announced as the Brand Ambassadors for EMGEE Group, a leading global real estate developer, synonymous with luxurious living.
With over four decades of experience in carving out the most coveted and desirable residences across India, the EMGEE Group are now presenting their luxurious habitats to a wider audience with opulent projects planned in Spain, Eastern Europe and other international territories. The brand's European operations will be headquartered in London with representative offices across the continent to market their Indian and global projects, driven by a team of informed and experienced talent.
To convey EMGEE Group's unique philosophy of discerning living requires a deep commitment to perfection and only pioneers, who reflect the EMGEE Group's tenets of achievement, style and recognition can transmit this vision. The EMGEE GROUP is pleased to have Anil and Sonam Kapoor as Brand Ambassadors, who with their unique style and talent are now entrusted with expressing the values and presenting the inspired creations of the EMGEE GROUP to greater heights.
Luminary and Bollywood veteran Anil Kapoor, who continues to pave his wave across the international mainstream cinema following projects such as Slumdog Millionaire, 24, Cities and Mission Impossible IV, commented on his association with the group – "After decades in the film industry, this is only my second endorsement. Being a celebrity I have a moral responsibility to what I represent and would only support a company or brand that shares the unique values which I believe in. EMGEE Group's large team of passion driven individuals knitted together by the desire to help build people's aspirations, exemplified by their tagline "We House Your Dreams", have accomplished commendable accolades with unsurpassed finesse. This central philosophy encompassing passion, quality, integrity and transparency forms the pillar of my family too and thus my daughter Sonam and I are delighted to partner in their progress".
Bollywood diva, youth fashion icon, and L'Oreal Paris Ambassador, Sonam Kapoor commented, "What I love about the designs and architecture of EMGEE Group are that they craft dramatically innovative homes in energy packed sustainable spaces with unparalleled comforts. "Anantam" – their luxury villas and apartments at Dona Paula in Goa – are a case in point where sculptural finesse in concrete is adorned in the infinite beauty of nature.EMGEE Group's endeavour in spearheading several trailblazing initiatives including the green revolution, elegant juxtaposing of enviable contemporary design concepts with untamed nature is what sets them apart and is a close replica of my own persona."
EMGEE Group was founded by its CMD Mr. Mudhit Gupta, who is powered by his passion to house people's dreams and providing them with unrivalled lifestyles through the homes they live in. In speaking about the association with the Anil and Sonam Kapoor, Mr. Mudhit Gupta comments: "EMGEE Group's foundation is built on the principles of Quality, Delivery, Integrity, Eco-Friendliness and Innovation. We strive to offer unrivaled lifestyle living at exotic locations in India and Europe. Anil and Sonam Kapoor are a perfect fit as Brand Ambassadors as they epitomize family values. Today, Anil is not only a Bollywood star but also an international actor of great repute with his work in Hollywood being highly appreciated by one and all. Sonam is reckoned as a youth icon in the country defining true elegance and style at a young age, symbolizing qualities that EMGEE Group stands for and our association with them will help us scale new heights by strengthening our bond with our target audience."
EMGEE Group is ably aided by the exceptional proficiency of the internationally-acclaimed and award-winning architect Sanjay Puri, who has a longstanding relationship with the Group and has always played a pivotal role in all of their projects. Very recently, Sanjay emerged as the winner of the prestigious Dubai Cityscape Architecture Emerging Markets 2011 Award in the category of Tourism, Travel & Transport-Future, and received a high commendation for Dubai Cityscape Architecture Emerging Markets 2011 Tourism, Travel & Transport-Built Award. Sanjay is the only architect to have won commendation awards in 3 categories simultaneously at MIPIM Architectural Review Future Projects Awards at Cannes, France in 2011. Along with 16 international awards and 54 national awards, including CW India's Top Ten Architects Award for 6 years, Sanjay Puri's projects have been extensively featured in a host of national and international publications. Sanjay has been a speaker at many conventions and institutions all over the world and is the only Indian architect to have been included in the judging panel at the World Architecture Festival 2010, Barcelona amongst 70 international judges.EMGEE Group's long standing association with Sanjay has not only enabled them to carve a personalised niche within the Indian perimeters but is also helping in creating ripples on foreign shores.
EMGEE Group's philosophy is conservation of energy and ethical ecology and the Group focuses on initiating projects of rain-water harvesting in India which have been acclaimed with the prestigious Platinum Certification for Leadership in Energy and Environmental Design (LEED) from the non-profit organisation "The United States Green Building Council".