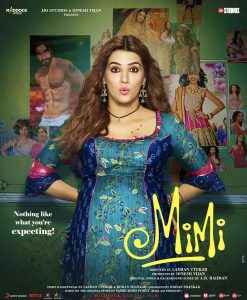 Mimi, starring Kriti Sanon, is currently streaming on Jio Cinema and Netflix. The film tells a very quirky unexpected story with touches of comedy, drama, and so much more. Directed by Laxman Utekar, the film also stars Pankaj Tripathi, Sai Tamhankar, Supriya Pathak, and Manoj Pahwa.
For the music of the film, the great A.R Rahman composed a soundtrack of seven diverse and unique songs. Featuring verses by the incredible Amitabh Bhattacharya, the OST showcases singers like Shreya Ghosal, Shilpa Rao, Kailash Kher, and even the maestro himself. So, with the tracks of Mimi has Mr. Rahman created, the perfect musical story for the film and even more songs for you to add to your playlists? Read on to find out.
Param Sundari starts with a very staccato folk-flavored vocal chorus that is really compelling. It makes you wonder, what the song will be as it plays on. The music then transposes into a really cool mode with a very modern groove and you want to hear more. Sung by the always incredible Shreya Ghoshal, 'Param Sundari' is ideal for her voice. Shreya sings with such spirit and zing and then in the more melodious sections, her vocals are just too perfect. The choral group is fab and that adds an extra layer that brings the song up even more. The tremendous rustic sounds of the music with that base of the drum beats and the wicked modern line is what makes the song so good. It is the perfect piece for the Bollywood dance number that Kriti Sanon does in the song video, which I imagine is a dream of Mimi, knowing a bit about the story. In fact, if I had not seen the video, I would have guessed it was a dance number and loved it…No, I was not dancing to the song, not me! It is a fabulous Bollywood track that just makes me happy. 'Param Sundari' is an A. R. Rahman composition at its best.
Oh, the beginning of Rihaayi De is something so special. The flowing phrases of music are beautiful and you wonder what Rahman music magic is coming next. What is coming is that the track features gorgeous vocals by the maestro A. R. Rahman. This is such a melancholic song and Mr. Rahman makes you feel every phrase and note. I got totally lost within the track. I love when that happens when I am carried away by a song. Every note sings! It does start out simple musically but then expands to back up his brilliant vocals. The harmony, when it is the music of the song, is another incredible add. The way he develops and grows a song is just phenomenal. There are so many elements he layers in to make the song have depth, and every musical line works together to make such a full sound. I applaud every one of the musicians, they are wonderful! This song and especially his vocals will stay with you, especially I imagine even more when you see it within the film. Definitely, one to add to a playlist of songs that make you feel! Play it now. I would love to hear this live. This is another one to go on my all-time favorite A. R. Rahman track playlist. Wah!
Yaane Yaane features vocals by Rakshita Suresh. It does have an Indian-infused flavor but it feels more like a remix with odd dance synth beats added in. She is terrific and sings with spice and a fabulous tone. She never gets overwhelmed by the music and is the best part of the song. It just seems like the music is confused by what it should be… is it traditional, classic, electro, or a fusion…. Not my favorite track by A. R. Rahman but it may be your jam.
Hututu is an A.R Rahman track with a sound you have never heard before, and it is extraordinary. In fact, as you listen you wonder how does he compose tracks like this. Really, how does the music for a track like this come to him? It is awesome with a new age essence that is so original and so, so good. I loved it from the very first notes and once again was carried away by the musical composition. Then the absolutely lilting vocal by Shashaa Tirupati joins in the song and you just sit there in awe. She is superb in feeling and intonation with pitch-perfect vocals. Mr. Rahman has a cool percussion underlying beat that really grounds the song. There is also this orchestral line, played by a Macedonian orchestra, that's so incredible it takes the song to another level. Mr. Rahman is of course known as the maestro and this track proves that to be even more true and that it is just a fact. Put your best headphones on and listen to the music magic!
Shilpa Rao is the voice of the fast-paced cut Phuljhadiyon and of course she is brilliant. This is another song that you think will be straight-up traditional but then it goes into a 'wait a minute what?' modern arrangement with punches of different beats. Mr. Rahman interestingly adds in a Spanish line, with the word fuego which means fire. There is a rap section too, that also is in Spanish but it gets lost, you can't really hear or understand why it is there. Shilpa Rao is perfect on every stanza being sharp and spirited when needed then does a more soft section amazingly, then a soaring section that made me say whoa out loud. Is there anything she can't sing? No! I admire the creative, forward-thinking ideas Mr. Rahman tries to bring to music but somehow this song, like Yaane Yaane, seems to be confused as to what it is and as a result you are very confused listening to it. It hits some wrong notes. Except, of course, for Shilpa Rao's vocals – she is fantastic!
We have the great Kailash Kher at the mic for Choti Si Chiraiya. I always love his performances and on this track he makes me think once again that he is one of the best singers out there. The song is a pure, folk track with incredible instrumentation. The sublime performances by the musicians are everything that makes a song like this so good. I so love this type of song, with the tabla and the sarangi, plus the mohan veena (yes, I had to look that instrument up and I absolutely love the sound). I am in music heaven listening to this song. Kailash Kher sings with feeling, flys through the incredible range of the runs, and gives it everything he's got to every note. He is just marvelous! There is a longing to it that makes me wonder what is happening on screen. Another marvelous track!
The last song Rock A Bye Baby, begins with Julia Gartha's warbling, soft, full of feeling country-ish tinged vocals and this was really a surprise – in the best way. Though I had to check I was still listening to the Mimi OST. I loved the acoustic guitar accompaniment in the beginning. Then we hear the transition to the gorgeous Khatija Rahman vocal and that brings another tonal color and it is such a beautiful one! She sings with so much emotion with her delivery being dulcet in sections but also resonant in other verses – she shines. The song, a lullaby, is so different and such a cool mix of the two styles of singing. The music developed into a fuller sound that backed both singers wonderfully. I thought the choir was too much, the two singers and the music were all it needed. I am admittedly biased when it comes to Hindi songs and singers so I have to say I prefer Khatija's beautiful voice. Again, I am so intrigued to see how this adds to a scene in the film. So, so unexpected but it so worked.
Mr. Rahman has created an outstanding set of songs for the story and scenes in the film that I am sure to enhance what is going on onscreen. However, what makes this set of songs even better is that there are tracks you want to just turn up (yes, to 11) and listen to over and over again. A.R.Rahman always brings something new to the musical world and with the tracks of Mimi, he presents some absolutely exquisite compositions. If I could I would give everyone on the tracklist, Mr. Rahman, Mr. Bhattacharya, every single singer lead and back up, and all the musicians a standing ovation. Just go listen to it now! Especially 'Hututu', 'Rihaayi De', and 'Param Sundari'! I know I plan to replay them over and over again.
A Jio Studios and A Maddock Films production, produced by Dinesh Vijan, & Dinesh Vijan, Mimi is streaming on Jio Cinema and Netflix now!