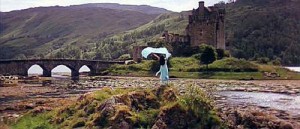 We all know and love that in classic Bollywood films our hero and heroine are usually at some point in a song transported to a mountain top in Switzerland in the snow or in the case of I Hate Luv Storys, New Zealand. Although it is not just in songs that we see foreign locations, London has been a very popular city for location shoots and we have seen many a film and scene set there, including classics like Dilwale Dulhania Le Jayenge, and more recently Patiala House. However, since audiences have become all too familiar with places such as Switzerland and London, Scotland with its gorgeous terrain and unique castles has become an obvious choice for many directors looking for something different. In fact, Ashwani Chopra, head of Trimurti Films, said while making Pyaar Ishq Aur Mohabbat, "We chose Scotland because it gives a different backdrop and we don't want anything we have already exploited." Scotland has also been seen as the safe alternative for the security stricken Kashmir region. With all this to offer, Scotland stole the hearts of many directors and has had a long romance with Bollywood. Let's take a look at some examples of Bollywood's Highland Fling.
In Kuch Kuch Hota Hai, audiences fell in love watching SRK, Kajol and Rani dance around Scottish landmarks such as Eilean Donan Castle and Glen Coe in the title song. Speaking of SRK and Kajol did you know that, the monster hit Dilwale Dulhania Le Jayenge had filming locations in the UK and even reached as far as the north of Scotland for some of the countryside shoots
As you can see Bollywood has been filming in Scotland for quite awhile and there is more! There are also scenes in Uddam Singh including the assassination were filmed in Glasgow and Stirling.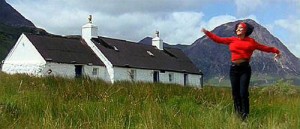 Aishwarya Rai has been a frequent visitor to the castles of Scotland. Kandukondain Kandukondain, the Tamil version of Sense and Sensibility used the ever popular location Eilean Donan Castle. The actress also visited Scotland to films scenes for other films such as Dhaai Aksher Prem Ke at Edinburgh Castle.
The Athens of the north continues to intrigue directors and recently Tezz, which finished production in Scotland, filmed fights scenes between Ajay Devgn and Anil Kapoor in Glasgow.
Similar to many films the upcoming Mausam has used Scotland as a substitute for Kashmir citing security reasons. There had been rumors that the film would be shot in London, but director Pankaj Kapoor opted for Edinburgh due to the many scenes he needed shot in the mountains. We also know Edinburgh's Greenmarket is set to dazzle audiences in the film.
Scotland can certainly expect to see more of Bollywood in the future as directors voice their affection for the country. Bollywood legend Dev Anand has expressed his desire to see Scotland host the next Indian love epic. The Bollywood veteran said about writing his script for Main Solah Baras Ki, "I discovered Scotland for Bollywood when I went there ten years ago. Others will follow me." This has certainly been the case. His autobiography describes Edinburgh as being the most beautiful city in the world even stating "Scotland is beautiful even when it rains". He has even written a film based on a father son relationship in Scotland and is looking to find the best Scottish talent to work on the project.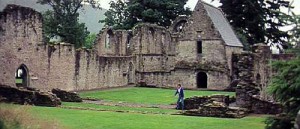 This growing admiration from those in the B-town has also lead to a rising recognition of all things desi in the country. Local dance groups has seen a rising interest in Bollywood and Bhangra styles and more and more non Indians taking part. The Edinburgh Bhangra Group has not only seen a rise in interest at the University but has also attracted members from different nationalities to their dance workshops. The Bharatiya Ashram Dance Group in Dundee has also seen a rise in interest, even performing in the city centre and various other shows. Glasgow based Bhangra group Tigerstyle have also seen a growing fan base with their catchy remixes of Bollywood hits, the latest being 'Sajh Dhaj Ke' from Mausam. Colleges and school have also taken part in the cultural important from India. Woodfarm High School in East Renfrewshire has offered dance classes to its students while Banff and Buchan Students Association prepare for Diwali celebrations across its campus.
We can expect to see much more of Scotland this week as Shahid and Sonam Kapoor take to the screen in what is set to be an epic love story. Although Mausam faced delays it has certainly brought much loved attention to Scotland. Time can only show if Scotland can cement its place in Bollywood or remain a substitute for the Kashmir region.