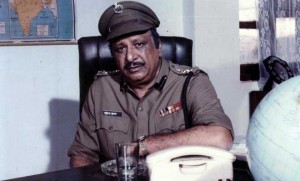 Bollywood's actor Jagdish Raj, who was popular for the role of a police inspector in the 70s and 80s passed away on July 28, 2013 at his Juhu residence following a respiratory ailment in Mumbai. The 85 year old actor has a Guinness World Record to his credit for playing the role of a police inspector in 144 films.  Some of his popular movies are Deewar, Don, Shakti, Aaina and Silsila.
The bollywood's police inspector passed away after suffering a respiratory arrest, with his death being reported to the TOI by his son-in-law.
The prayer meeting for the actor was held on July 30, 2013 at Juhu, Mumbai. Bollywood actors Raveena Tandon, Anil Kapoor, Kumar Gaurav, Poonam Dhillon, Shakti Kapoor were present amongst others.
Jagdish Raj, born in 1928 acted in movies for almost two decades before retiring in 1992. He is survived by two daughters, Roopa Malhotra and Anita Raj.