We here at BollySpice like to bring unique coverage to every event we attend and for the premiere of Ra.One in Toronto we thought we would go a bit different and fun. We asked one of Shah Rukh Khan's biggest fans, Shruti T, to do a diary of her experiences for the whole day! Read on to find out what happened when SRK came to Toronto on October 26th!
Most fans' dreams usually come true when they meet their idol. However, for most Shah Rukh Khan fans, their dreams come true when they get a mere glimpse of their idol in person. Endless ear piercing screams, shock and shivers, shrieks and smiles, tears and ultimate hysteria – that is the usual result of what they call "King Khan fandemonium". It was sheer madness as soon as Shah Rukh Khan arrived in Toronto on Wednesday afternoon, right until he left the city early Thursday morning. SRK was here earlier this year in June for the IIFA awards, and this time he came for less than 24 hours and created a storm once again.
As a diehard SRK fan, I was in disbelief when I found out that my idol, mentor, inspiration, and life obsession was going to be back in my city after just four months. After all the wonderful moments at IIFA (from being face to face with him at his arrival at the hotel, him holding on to my hand at City Hall, shaking his hand once again at the Sheraton Hotel party, throwing a rose at him on the green carpet, watching him perform and win the award for Best Male Performance live during the award show, hearing him say, "My Name Is Khan and I'm a Torontonian", and just being able to be near him), I was ready for more. Preparing for the day itself, finding out details about the events and his schedule, organizers, venues, etc. took around two weeks, and our Torontonian group of fans got to work. Since most international fans get very few opportunities to come close to our beloved SRK, I decided that I should collect messages for SRK and try to forward it to him if I get a chance. Additionally, I knew this was the chance to try to give him gifts from the "SRK Angels" (#SRKAngels), a group of girls who met on Twitter only because of their love for SRK, who share a special bond of friendship and sisterhood. The first step was to get hold of tickets to the movie premiere and the after party as soon as they went on sale, no matter what the price. Then it was important to find out venue logistics, coordinate with each other, and constantly stay connected with other fans. After much preparation, stress, anxiety, frantic phone calls and emails to each other, etc. it was finally October 26th, 2011. I did manage to get some snaps, though they are bit blurry; maybe I was shaking to much! Also be sure to check out the videos I captured, excuse the screaming…SRK super fanatic remember!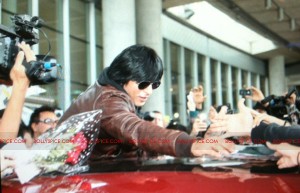 Arrival – Toronto Pearson International Airport:
SRK's flight was supposed to arrive at about 11:41am from Heathrow Airport, London. Due to the rains and busy traffic we reached the airport at about 10:15, and met with some of our fellow fan-friends waiting there. The organizers had planned a warm welcome for SRK. There were some dancers in red sarees getting ready to perform to the smash-hit 'Chammak Challo' to welcome him. Fans of different age groups and backgrounds were starting to gather. We got our "Welcome Back G.One" and "#SRKAngels LOVE G.One" signs ready. The organizers brought the barricades much later, and we had to compete for a good spot with everyone who came after us. SRK arrived at around 12:15pm. It's true that when SRK enters the room, people just lose control, but being in the middle of the madness is truly overwhelming. Shouting, screaming, pushing and shoving, just for a glimpse or a handshake from King Khan.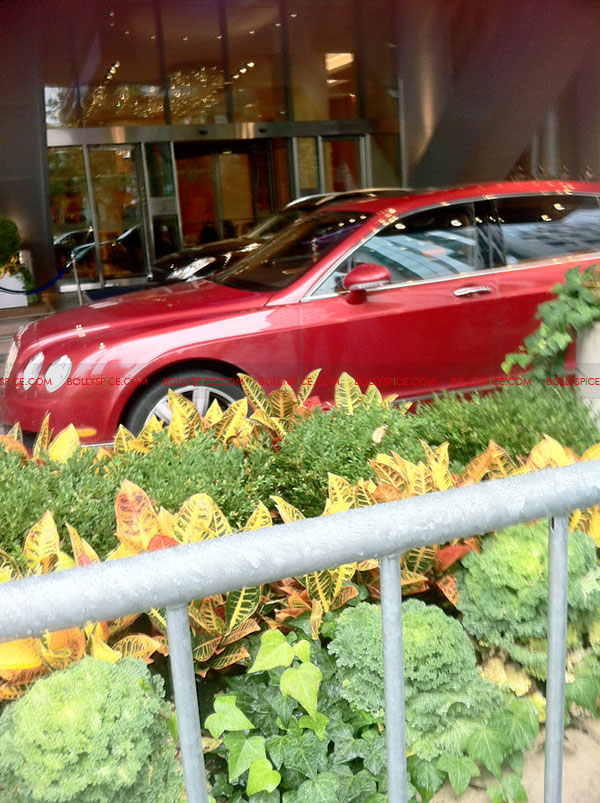 The security could have been tighter and better crowd barriers could have been arranged since within seconds of his arrival they were knocked down. Right before he came out we were told by his people that he is very tired due to lack of sleep and continuous traveling around India and now across the world but as usual, SRK was wonderful to his fans. He shook as many hands as possible, gave autographs, and spoke a bit to the press. My friend was able to hand him our message cards and he said, "thank you", and held it close to his chest as he tried to make his way to the car outside. Some of the fans were quite aggressive and would not let him move, which is why two bodyguards had to carry him for a few seconds to help him exit the airport faster. The fans ran out the doors and gathered around his car, still screaming and cheering for him. SRK, being the kind person that he is, still gave hugs and signed autographs. He got up on the car in his trademark style and waved out, blew kisses and gave high-fives to everyone around him. I stood on the other side of the car and as he couldn't reach my hand, I quickly put my #SRKAngels sign on the roof of the car, and he signed it. Finally, after about 7 minutes of fan frenzy he was driven away. The media was there to cover every minute and asked many fans to give their account, but most of us were too emotional to respond. I had tears in my eyes, just thinking of the fact that he was holding the messages I collected, prepared and tied with (blue, G.One themed) ribbon, and that my idol was now in my city.
We then headed to the hotel he was staying at and waited to find out his schedule from our sources. Since the press conference was canceled he had some time to get oriented to the time zone change and prepare for the exciting night. We then found out that he would not be out of the hotel until 6pm at least and thought it would be best to go to the red carpet at around 4:00pm and wait.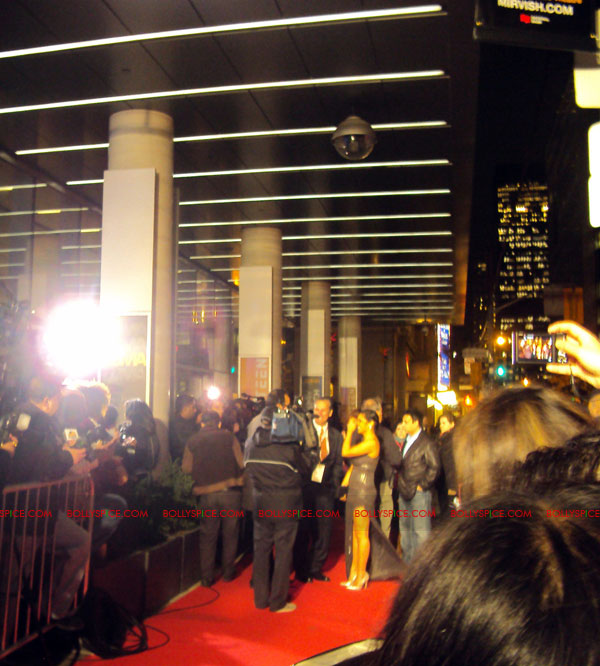 Red Carpet – TIFF Bell LightBox:
The official red carpet was to begin at 6:30pm, and the cast of the movie was expected to arrive anywhere from 7:00 to 7:30pm.
Fans lined up quite early in the day despite the rain and cold to get good spots near the barricades. Half of King St. W was blocked, but this was still not enough to contain all the fans. Big Ra.One posters were set up at about 5:30pm and photographers came and set up right in front of me near the main doors. I was at a loss since once the cast arrived I was being crushed from both the fans from all sides and also the photographers to my left. One by one, Team.One arrived. Jeff Kleiser, the special effects chief was present arrived and joyfully talked to the organizers as he too waited for the cast. Supporting actors Shahana Goswami and Armaan Verma, and director Anubhav Sinha all spent some time doing interviews with the press and posing for photographers. Since some of the Canadian photographers did not know details about the movie, they asked me for names and details since I was standing next to them. Finally at 7:30pm, after a long wait, the cast went inside the building to greet more fans, and it was time for the main guest. The crowd once again went wild as soon as he got out of the car – the cold and miserable feeling all went away within seconds, all because of one man. SRK did a few interviews and posed for a few seconds, but spent most of his time doing what he loves the most – connecting with fans. He gave hugs, kisses, autographs, handshakes, smiles and waves to everyone. As he made his way inside the building, once again the fans mobbed him inside.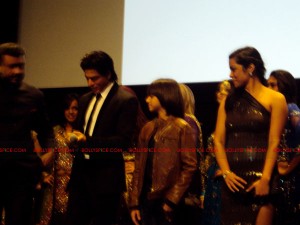 Film Screening:
We made our way upstairs to the screening at Cinema 1, and thanks to our fan network, we had worked out a system. Two of our friends had reserved seats for us in the 2nd row, which is why we were able to watch the film from up close. SRK came on stage at about 8:20pm and charmed the audience with his wit and energy. He joked with everyone and talked about how he always gets the warmest welcome in the world from the Toronto crowds. He warmly introduced young co-star Armaan Verma and joked about how he is trying to grow his hair to imitate Armaan's hairstyle. He then talked about co-star Shahana Goswami and her fabulous performance in her debut, Rock On!!, and then thanked director Anubhav Sinha for his hard work and vision. He also thanked TIFF co-director Cameron Bailey for showing his support. Finally, he asked if they could play 'Chammak Challo' so he could make everyone dance, but a lady sitting in the first row (right in front of me) quickly pulled out her iPad and said she could play it on it. SRK called her up, they played the song, and SRK made everyone dance with him. What a charmer! He was gracious and sweet, and watched half the movie with the audience. He sat upstairs in the balcony with Armaan and Anubhav, and I got a message from my friend saying that he was sitting right in front of them. During the previews, everyone cheered and clapped for the Don 2 trailer, its electrifying stunts, the crisp dialogue and of course, SRK. Ra.One began and the crowds finally quieted down. There were some light-hearted opening credits during the movie, for e.g. thank yous for "Shahanshah Amitabh Bachchan" and "Superstar Rajnikanth", and I was told that when the message discouraging smoking appeared on screen (and people nervously laughed and shouted out, "Yeah! Stop smoking, Shah Rukh!"), SRK did in fact laugh a little, as he is always touched by his fans' concern for his health. He then watched the movie until the intermission, and fans kept trying to turn their heads and look for him in the balcony every now and then. I caught a glimpse of his beautiful, shiny hair from where I was sitting and hoped that he knows how much his fans love him. The movie was thoroughly entertaining, action-packed, advanced in terms of special effects and concept, and a whole lot of fun.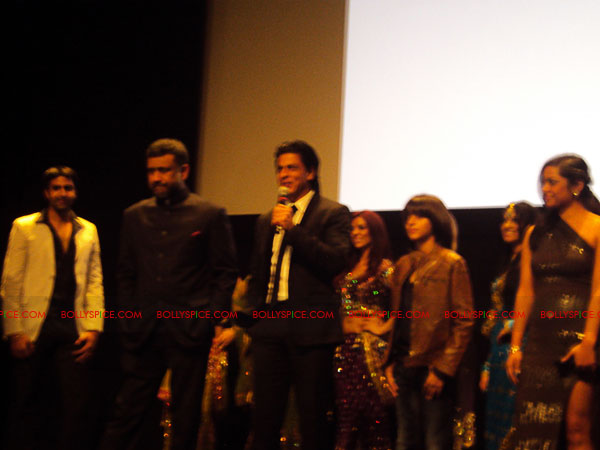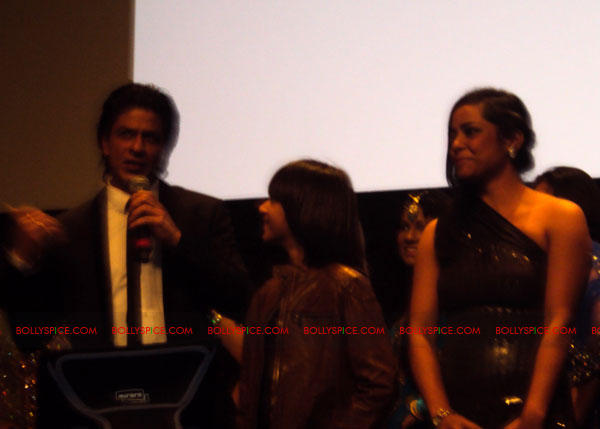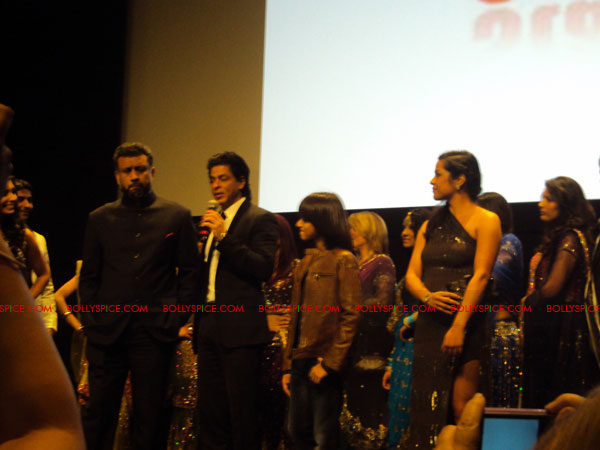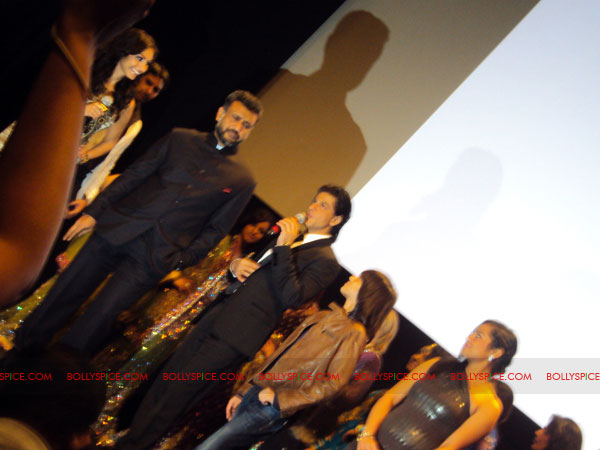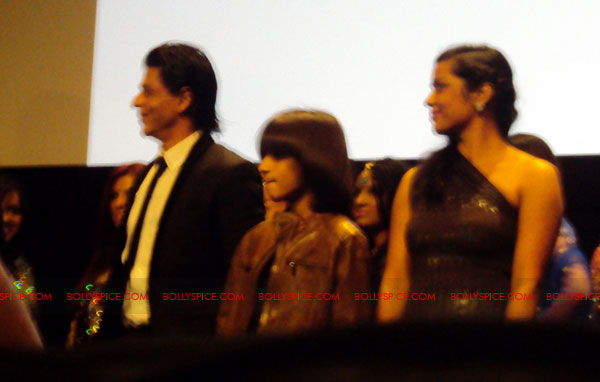 httpvh://youtu.be/lBTFO4iuE_E
After Party – The Sound Academy
The movie ended at around 11:00pm and by the time we got to the venue it was quite late already. A good crowd had gathered around the main stage where the DJs KSR played some popular desi tracks. I got to stand somewhere in the center of the crowd and when SRK showed up, I made my way to the third or fourth row from the barrier. He was so energetic despite the long day, and spent time reciting dialogues from his movies. People requested legendary dialogues like "Don ka intezaar toh gyaraah mulkon ki police kar rahi hai, Sonia. Lekin Don ko pakadhna mushkil hi nahi namumkin hai". He customized his famous dialogue from Darr just for us and said, "I love you, K K K Canada!". He also recited one from my 'Khanverter' movie, Baazigar, from Dilwale Dulhania Le Jayenge and Devdas, and to top it off, he chose some lucky audience members to go on stage. He chatted with each one of them, asked them about their backgrounds, joked with them and also made them dance with him to the 'Chammak Challo' and 'Criminal' tracks. He thrilled the audience and left,making us want more.
After the show was over, I went out to the lobby and waited with some others, just to get a chance to see him leaving. We waited for about an hour, as he was busy meeting with organizers and sponsors upstairs. He came down and once again, guarded by his big bodyguards he had to rush out of the building, making his way through a sea of people trying to get close to him. My friend forwarded our #SRKAngels gift to someone on his team after he left, and we can only hope that he received it. The night was finally over in the wee hours of Thursday morning and we could not believe what a surreal experience it was.
Less than 24 hours and we were wiped out, achy, cold and sore. I cannot imagine how SRK operates on very little sleep and rest for weeks at a time. He works very hard to make sure everyone he works with is taken care of. One thing that became clear to us is that whenever he has come to Toronto in the past few years he has tried his best to make his fans happy, despite the very short stay. He sacrifices his own sleep in order to meet as many fans as possible. The man has a wonderfully positive energy, and while spending time watching him and listening to him people forget all their worries and fears, and just have the time of their lives. I respect and love him more and more every time I see him. He is like a drug; even a little dose of SRK makes you crave for more. After all, it's SRK – you just can't stop. Thank you for lighting up our lives this Diwali, G.One!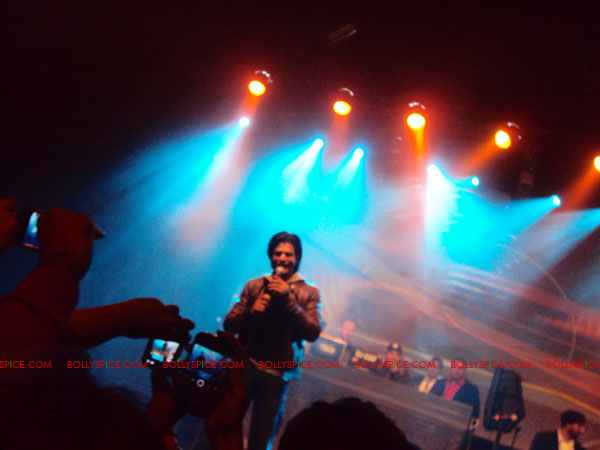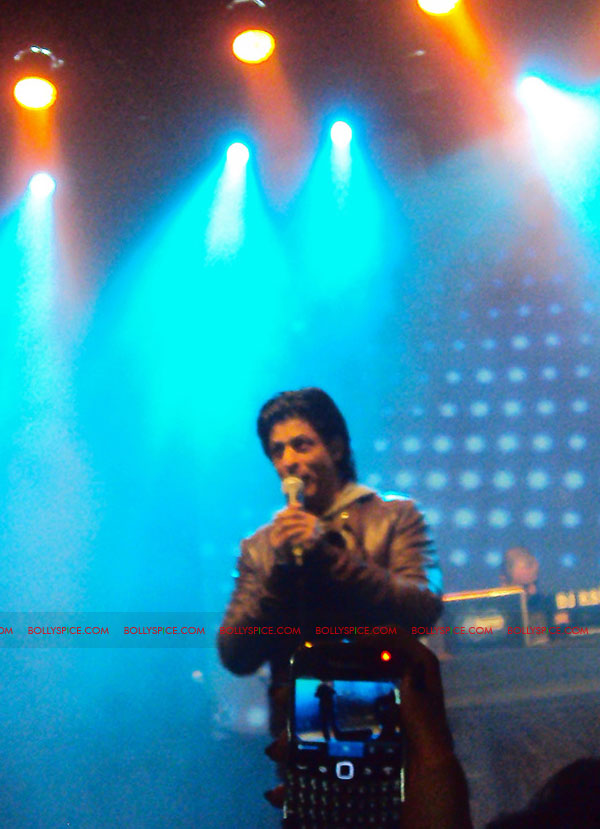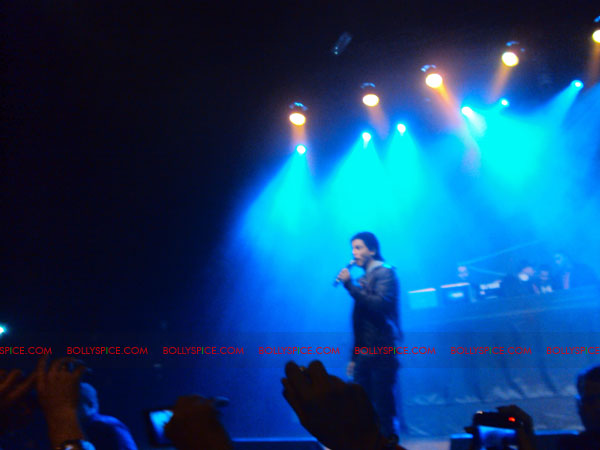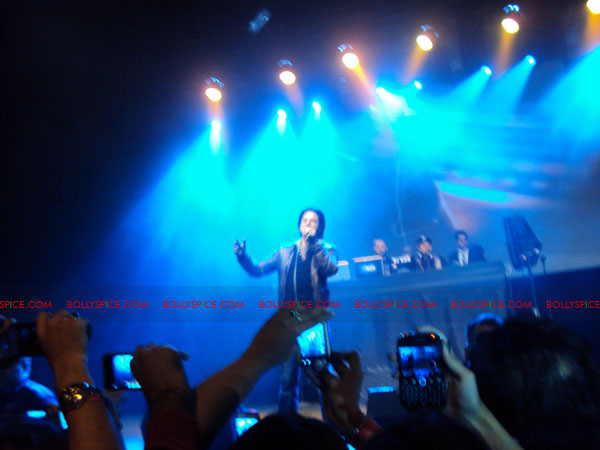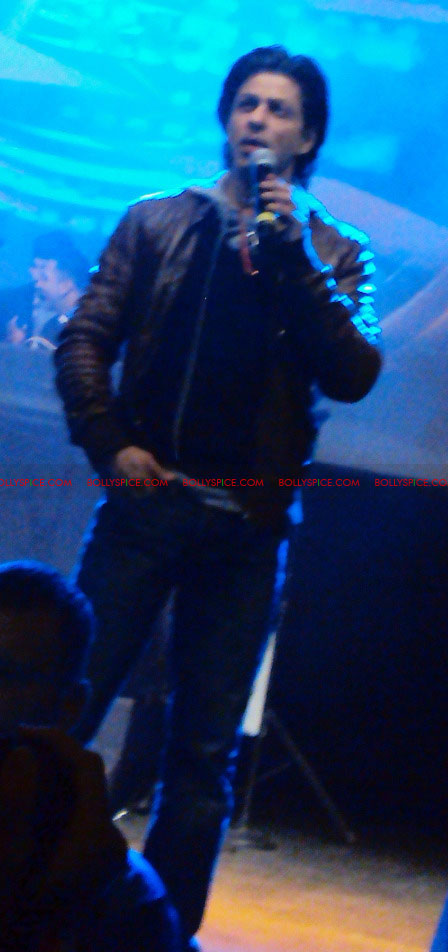 httpvh://youtu.be/gtab9cuvKuM