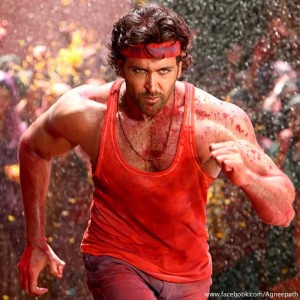 Hrithik's look in Agneepath made jaws drop all over the world. His look inspired men and wooed women all over the world. But it was not at all easy to get the look and physique in place as per the requirement. Hrithik had to completely change his workout routine and work extremely hard to get that shape which is now called as god made.
His trainer Satyajit Chaurasia, who has been Hrithik's trainer for 9 years, explains how Hrithik had to go into an extreme regime to get his muscles extremely toned for Vijay Chauhan's role in Agneepath.
His diet was a super protein diet with 12 egg whites, 2 loafs of brown bread, a protein shake, nuts, corn flakes with milk and fruit platter for breakfast.
Two roti, green vegetables, 1 whole chicken (during the day), dal, caesar salad, fish platter for lunch.
Protein shake, egg white sandwich or fruit plate for snacks. For dinner he had 6-8 egg whites, brown bread, 1/2 chicken or fish with stir-fried vegetables Caesar salad during workout and 1 banana.
Now Hrithik can say, "That is how the cookie crumbles"!!