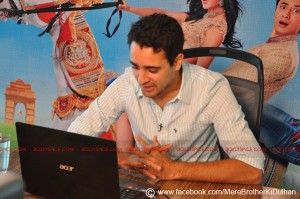 The live chat with Imran Khan was indeed an event that had been awaited by fans worldwide for a very long time, and they were not disappointed! Imran Khan chatted and answered questions from the YRF studios from 11 a.m to 12.p.m and the answers gave us some really interesting tid-bits into Imran's life.
Imran admitted that he is a die-hard gadget freak, and also answered a fan's question about his favorite songs from Mere Brother Ki Dulhan, which are the title track and 'Isq Risk', which are already topping the music charts. When asked about whether he will be back on Twitter, he explained that he had de-activated his account just a year back, so at the moment he wouldn't be appearing anytime soon.
He delightfully explained about a very funny experience while shooting for the film in which Katrina took 16 takes in a shot where she slaps Imran! While we're sure that must have been a very painful experience, he also fondly mentions that he had a great time shooting with his co-stars, and even calls Ali Zafar's great sense of humor to be very similar to his.
Fans from across the globe logged into the official YRF Youtube channel, from New York to Pakistan to Paris, even countries like Mauritius, Canada and New Zealand participated. Well for sure, the audience will be eagerly awaiting the "Com-Rom" of the year, as Imran calls it, and 9Th September is just weeks away!
Another chat was conducted via a Blackberry for Imran to connect with his fans, where the live messages were answered by him for 20 minutes. This is the first time that a Bollywood movie has ever marketed their movie through the ever popular Blackberry service, and a lot of positive responses and appreciation is being given to the movie for thinking of such an innovative technique.
Watch Imran Khan's Live Chat if you missed it: http://bit.ly/qGgazy
Add the Mere Brother Ki Dulhan team on the Official BBM PIN: 277BFE3C