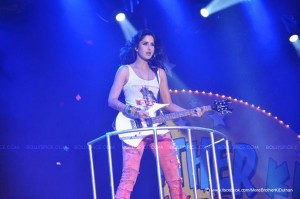 Katrina Kaif, Bollywood's reigning queen, is excited about her upcoming release Mere Brother Ki Dulhan, and will be conducting a live chat session with a huge number of devoted fans on the 30th of August. The chat, which was previously postponed, has now been scheduled at 3:30 p.m, on the official Yash Raj Films Youtube channel.
The last two live video chats conducted with Imran Khan and Ali Zafar, Katrina's co-stars in the movie, saw fans log in from all over the world and profess their feelings and wish the stars best of luck for the release of the movie.
Katrina plays the role of Dimple Dixit, a crazy, whacky, independent girl, who finally decides to settle down with a 'rich sorted package'. It will be fun to watch Katrina portraying a livewire character, and hopes are quite high that this will truly be Katrina's breakout performance.
So are you ready for Katrina to answer your questions?
Click on the link and find out – http://bit.ly/KatrinaLiveChat