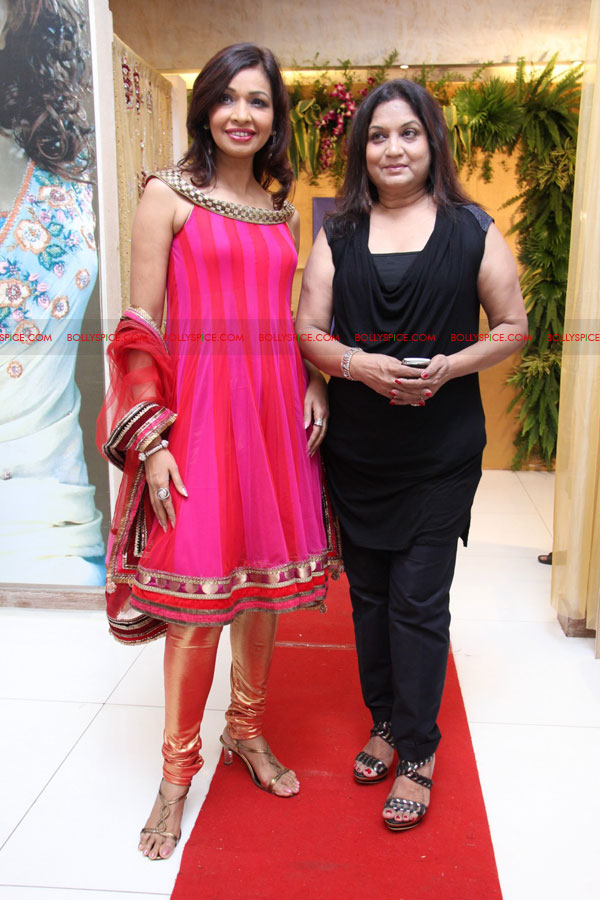 Nisha Sagar unveils her latest collection 'Smitten', the very young and hep anaarkali suits for the woman of today. Sagarika Ghatge looked stunning in a blue & sea green anaarkali while she walked as the Show Stopper for Nisha Sagar & Charu Jewels. Other celebrities who attended the launch of 'Smiiten' were Bhagayshree, Yuvika Choudhary, Alka Verma, Ashim Samanta, Achala Sachdev, Nikhil  Bhai of Charu Jewels, Kirron Sippy, Saumya Tandon, Sheeba, Sapana Mukherjee, Manasi Roy, Rohit Verma, Bhoumik Sampat,, Aanad Sagar etc.
Other models who walked the ramp with Sagarika Ghatge were Shonalie Rana, Jia Mustafa, Malvika Raaj & Khushi Govil. While the anaarkali received loud applause, the jewels adorning them created a stunning ensemble.
"My idea is to make tradition viable for youngsters. Anaarkali suits are so very graceful and feminine, while being very chic and glamorous," comments the designer.
Crafted in electrical colours, these anaarkali are made of net. With intricate work of pure velvet and borders of pleated or crushed silk, they look stunning. Churidaars are made of banarasi brocade and are showcasing dollar print.  Duppattas are in flowing net. She has chosen to make the sets in contrast colours.
Most discernible and unusual about these anaarkali are there designs. Some are strappy while others are off-shoulder showcasing a western upper flowing into an anaarkali grace to satiate the glamorous streak of Generation X.
Each anaarkali is complemented with unique youthful diamond jewellary from Charu Jewels.
Each piece is a masterpiece & unique in design and their designs are as smooth as poetry. Charu Jewels are known for crafting jewellary out of precious moments of life. "We do not believe in repeating any of our designs and it is a certified fact. Anybody can design jewelry but to keep it unique is what is more important. It should not just be a piece of metal, it should be a possession, something that women should feel proud to own," comments Nikhil Bhai of Charu Jewels.
Since 1989, Charu Jewels with Nikhil Bhai at the helm has been creating hand-crafted designer diamond jewellery. Thoughts…Concepts,…Inspirations are Artistically-woven here into a "MASTERPIECE".