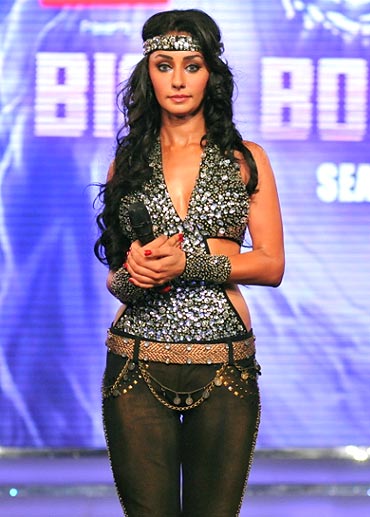 Mahek Chahal who is known to have bagged Bigg Boss on co-host Salman Khan's recommendation, came under tremendous fire from fellow-contestant Akashdeep Saigal on the show this week.
"Mahek was so over-confident because of Salman's hand over her that it seemed no one could touch her on the show and she would easily reach the finals. Little did she know, Akashdeep would enter as a wild card entry and expose her past," says a source.
Indeed, Akashdeep did take Mahek by total surprise, when after a typical Bigg Boss style argument, he said things which stunned her and drove her into rivers of tears.
It can be mentioned here that just a day before; Mahek had refused to comply with a task, wherein all housemates were to reveal a little about their past and mention why they thought they were selected to be part of the show. Her flat refusal to participate in the task had made many in the audiences and media wonder, what it was about her past that Mahek was hiding!
The girl's arrogance was at its peak on the show when Akashdeep blurted things like, "Maine tujhe logon ko nauchte hue dekha hai." Shouting at her, he questioned, "Balbir ko jaanti hai ke nahin?" Threatening her saying, "Aage bataaon?" he quipped, "Mahek, Preity, jo bhi tu hai…." hinting Mahek might have another name we aren't aware of. Gosh!
When Mahek approached him to counter, he taunted her saying, "baas aa rahi hai" and "gandi hai". Just a few minutes before all this drama, Mahek was seen talking to housemates Lakshmi Narayan Tripathi and Amar Upadhyay about nominations in Bigg Boss. "Karne do (nominate). Darr ke nahin baithi hoon," she'd said. But after the allegations by Akashdeep, her snootiness took a backseat and she cried and cried and cried.
By the end of the episode she seemed to be in no mood to forgive Akashdeep, and was seen gearing up for a new battle to put him in place, threatening to reveal personal details about his life too.
As everyone wonders how Mahek's knight-in-shining-armour, Salman Khan, will take to this insult of his 'good friend', the fact remains that Mahek stands exposed, with the voyeuristic audiences of Bigg Boss expecting many more secrets to spill out in the days to come.