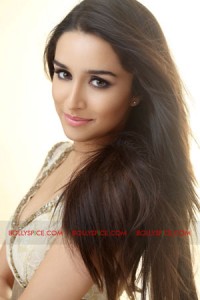 Ever wondered what were your favorite stars, favorite movies when growing up? What inspired them, and maybe even influenced them to become what they are today? The talented Shraddha Kapoor, daughter of funny man Shakti Kapoor talked recently to us about her favorite movie when she was growing up and how one woman changed her life and became her idol.
"Chaalbaaz was the best movie & Sridevi's mind boggling performance in it. The versatility she achieved by playing a double role & how she played the contrasting characteristics so beautifully adding the subtlest nuances to define the character. She was hilarious, moving, intense, everything all in one film."
She went on to tell us how she remembered practicing the dialogues in front of her mirror at night and how she was so excited to watch the movie over and over again. As she talked you could suddenly see those memories come back, her eyes sparkled and we got the feeling that she was just urging to rush home and put on the film.
So would Shraddha do a remake of the classic? Would we see her in a dual role anytime soon?
One thing is for sure, after her first two films in which she played completely contrasting roles; we have faith that this starlet will be an inspiration to the next generation.