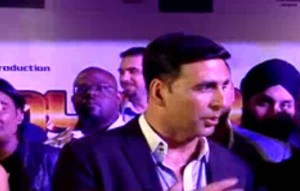 Speedy Singhs, internationally titled as Breakaway had a grand musical premiere in Delhi with all the glamour.
Akshay Kumar and the Speedy Gang, Russell Perers, Anupam Kher, Camilla Belle, Jassi Sidhu and Debut Vinay Virmani had a knockout out premiere, just like a big-fat Punjabi party. The entice cast Akshay Kumar, Vinay Virmani, Anupam Kher, Russell Peters and Camilla Belle walked on the Red Carpet together.
And the Chandni Chowk boy Akshay Kumar introduced Vinay to the press and said that he is proud to produce this Indo-Canadian movie in collaboration with First Take Entertainment and Alliance Films.
Jassi Sidhu performed LIVE with Punjabi dance troops on the stage on 'Veer da Viha' song from Speedy Singhs.