B'town has been a very busy place over the past few weeks with the variety of parties, fashion shows and of course film premiers taking place.
With so many events taking place the Bollywood's biggest and brightest have had everyone's eyes watching their every move. We of course have had our eyes on their outfits to see if their outfits are fashionable enough to gain our Star Stylista title.
Click on to see which fashionista made our Star Stylista list for second time and which star unfortunately got the dreaded Fashion Sinner title…..
Star Stylista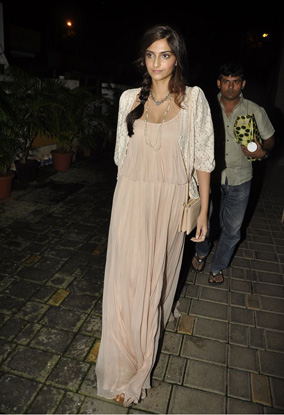 Sonam Kapoor was spotted last week at Imran Khan's Success Party that he held to celebrate the success of Mere Brother Ki Dulhan.
Maxi dresses, pastel shades and lace are very trendy at the moment and Sonam shows us how to incorporate these trends into your wardrobe.
I do love Sonam Kapoor's hairstyle that adds an air of femininity to her outfit. As for accessories Sonam has opted for a cute beaded necklace that compliments her maxi dress nicely, as does the cute purse!
Sonam Kapoor's outfit is refreshing and she looks fashionable thus gaining our title of Star Stylista!
Fashion Sinner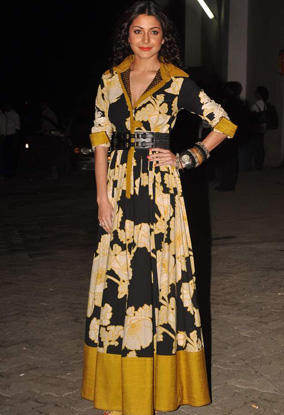 The word curtains comes to mind when you see Anushka Sharma's outfit – honestly what was Anushka thinking when she decided to wear this outfit to the Telly Chakkar New Talent Awards that took place last week.
Where to begin; I know floral prints and this mustard yellow colour are trendy at the moment but not worn like this. As for the tacky belt it does not help this hideous outfit at all and in fact makes it look much worse! The fabric is too heavy and Anushka's tiny frame gets lost in it. Anushka illustrates how not to wear a maxi dress!
Anushka Sharma gets fined with the Fashion Sinner title. I do hope she never wears such a hideous outfit again!