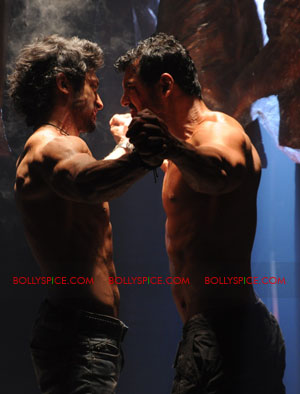 Gone are the days of the larger than life Bollywood villain such as Gabbar Singh (Sholay) and Mogambo (Mr India) who became icons in their own right. A decade into the new millennium, Bollywood has re-vamped the anti-hero launching more sophisticated, suave and realistic villainous portrayals that have turned the tables. Films such as Dhoom 2, Ra.One and Dabangg have changed the perception of the archetypal Bollywood villain as the new baddie certainly isn't the quintessential rogue, but in most instances as important and, more interestingly, as desirable as the male lead.
Force is a high adrenalin action romance, where not just the hero and the heroine but the bad boy is as sexy. Debutant actor Vidyut Jamwal plays lead actor John Abraham's strong opponent. The makers of the film wanted someone to match up to John's physique in the film as the villain is as important as the lead actor. John finds his match in the form of supermodel turned actor Vidyut, who bagged this infamous role after beating off stiff competition from over 500 people who auditioned for the role of 'Vishnu'.
Vidyut started his training in the Indian form of Martial Arts, 'Kalaeippayattu' at the tender age of three, and travelled across the globe for further training. He later excelled in Gymnastics and Kung Fu and managed to develop his own style of fight by amalgamating all forms he learnt, which reflects in the fierce action sequences between John and him in the film. The eclectic combination of the fight forms also gave him the flexibility to manoeuvre thrilling hand-to-hand combat scenes which he daringly undertook without the need of a body double.
At a recent event for the film where Force's villain was launched, Vidyut interestingly gathered a team of young boys from the slums of Mumbai and gave them Martial Arts training to perform with him at the event. During this event, Vidyut performed the stunts similar to those in the film, effortlessly showcasing his Martial Art skills, leaving attendees awe-struck by him.
Force releases in cinemas in the UK and worldwide on 30th September 2011 through Twentieth Century Fox.