The GQ India Men of the Year Awards took place on Thursday in Mumbai and the event was a star-studded affair.
Stars such as Shahrukh Khan, Deepika Padukone, Anushka Sharma and Freida Pinto turned up to celebrate.
The winners of the night where:
Cinematic Icon  – Shahrukh Khan
GQ Legend – A. R. Rahman
Businessman of the Year – Kumar Mangalam Birla
Woman of the Year – Freida Pinto
Creative Power House – Farhan Akhtar
Chivas Award for Outstanding Achievement – Imran Khan
Sportsman of the Year  – Yuvraj Singh
Young Leader – Jyotiraditya Scindia
TV Personality of the year – Karan Thapar
Excellence Award – Anushka Sharma
Designer of the Year -Rohit Gandhi & Rahul Khanna
Most Stylish Man Award – Sidhartha Mallya
Writer of the Year – Tarun Tejpal
We of course had our fashion hats on to see who dressed to impress and who failed to impress. Click on to see whose outfit was looking hot and whose was not….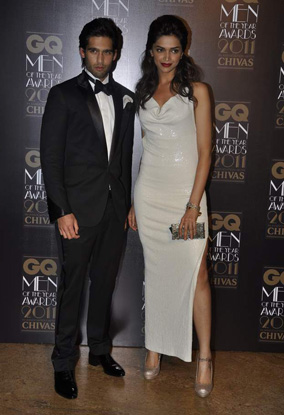 Sidhartha Mallya looks smart in his suit and bow tie, the perfect outfit for the prestige GQ Men of the year awards. I am not a fan of Deepika Padukone's gown; the sequins do not work in this long length. This particular style of dress is not flattering and looks tacky. Not a fan of Deepika's vamp style hairstyle either!
Verdict – Sidhartha Mallya is HOT!
Deepika Padukone is Not Hot!