Bollywood choreographer Ganesh Hegde held a party to celebrate the launch of his latest album Let's Party.
The event took place in Mumbai on Monday 29th August and stars such as Shahrukh Khan, Priyanka Chopra and Hrithik Roshan turned up to show support for the choreographer, who has choreographed popular numbers such as 'Main Hoon Don' from Don, and more recently 'Chamak Challo' from the upcoming movie Ra.One.
We of course put our fashion hats on to see whether the stars dressed to impress or failed to impress. Click on to see which stars were looking hot and which unfortunately were not…..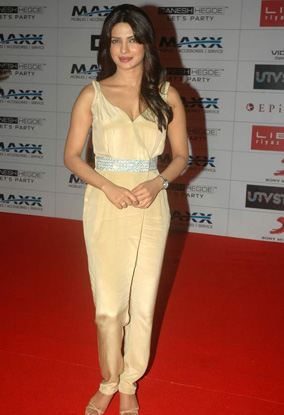 Priyanka Chopra does not look her usual great self. I am not a fan of this jumpsuit as it does nothing for the actress; the colour is sickly and the shiny fabric looks cheap. The silver belt does nothing for the outfit and makes it look worse. If Priyanka wanted to wear a jumpsuit she should have opted for a brighter and bolder colour that would have looked much better!
Verdict – Priyanka Chopra is Not Hot!