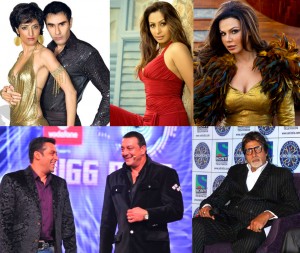 Just like last year, Bigg Boss on Colors, inspite of all the drama and hoopla it generates, is still trailing behind Amitabh Bachchan's Kaun Banega Crorepati (KBC), on Sony Entertainment Television.
So what is it about Bigg Boss that fails to hit the numero uno mark. Different people from different walks of life have their opinions.
"Both the shows cater to different segments of people. It's not fair to compare them," quips drama queen Rakhi Sawant, who participated in the first season of Bigg Boss.
Actress Kashmera Shah, who gave Rakhi tough times on the reality show, which helped generate tremendous TRP's, says, "The show is having unknown faces this time. None of the names are big enough. The ones slightly known are not doing anything significant. Moreover, it seems like there's a race to see who's gonna get more famous by screaming the loudest."
"The PR agency appointed by the channel fails to cater satisfactorily to all the journalists and papers from the interiors," feels journalist Puran Singh Rathod who freelances for numerous North-Indian publications with tremendous popularity and whose frequent requests for regular content on the show have been ignored by the channel's public relations outfit.
Dance supremo Sandip Soparrkar simply feels it's because Bigg Boss lacks the kind of charisma Amitabh Bachchan brings to KBC. "While Bigg Boss is about fights, gossips, bad mouthing and arguments, the fact that KBC offers a wonderful opportunity for the common man's millionaire dreams to come true, is a major factor in attracting more viewership," he says.
The current season of Bigg Boss has seen names like Shakti Kapoor, Pooja Bedi, Shonali Nagrani, Nihita Biswas, Shradha Sharma, Mandeep Bevli, Raageshwari, Vida Samadzai, Mahek Chahal, Sonika Kaliraman Malik, Pooja Misrra, Gulabo Sapera, Laxmi Narayan Tripathi, Juhi Parmar, Amar Upadhyay, Siddharth Bhardwaj, Aksahdeep Saigal and Swami Agnivesh till now, with Sanjay Dutt anchoring the show along with Salman Khan.