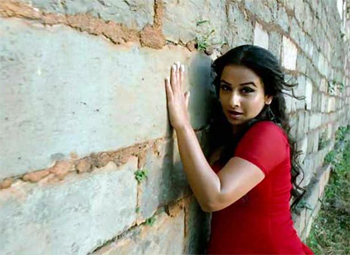 After her outstanding performance in No One Killed Jessica playing the no make-up, pared-down-jeans-and-t-shirt wearing Sabrina Lal, Vidya Balan has gone to the other side of the spectrum for The Dirty Picture. In this musical she is in full Indian filmi costume, makeup, picturizations, and story. Before we even saw the first glimpse of Vidya as Reshma, the buzz was that she is outstanding and looks absolutely gorgeous in the tale of the 80's film star. Based on the life of Silk Smitha, the character in the film is also an amalgamation of many of the top dancing girls from the heyday of South Indian films. Vidya has said that she had to completely let herself go and fall totally into this bold character and, based on the trailers, she has succeeded. Director Milan Luthria said about her performance in the film, "She gets beneath the skin of the character and gives a performance so nuanced that she blows your mind. Making a biopic is very hard but if your protagonist shows the levels of commitment that Vidya does, then you can attain the heights you seek." While waiting for a flight at 4:45am on her way to another fabulous promotional event, Vidya talked with Stacey about The Dirty Picture. It is always a pleasure and fascinating to speak with her and once again the actress gave us fabulous insight into her experiences playing the character and being a part of this highly anticipated film.
What attracted you the most to the role in The Dirty Picture?
One, I love the script. Second, it was the kind of role that I hadn't essayed so far. I'm getting to play a dancing star, and I've always fancied playing a dancing star or an actress. Also I was getting to play a person who is extremely bold and brazen in more ways than one, about her body, about her sexuality, and is completely uninhibited and unapologetic about it. So I think it was almost compelling for me to play this role.
When you first heard the narration, what were your first thoughts?
I wanted to be completely convinced. Normally I take a lot of time to decide whether or not I want to do a film, so, understandably I took time on this one. The concern was that normally when it's a film based on the life of an actor or something based on the film industry, it tends to get a little bit dark. I didn't want that, I like films to be hopeful. After I read the script and after my consequent discussion with Milan Luthria I realized that he was seeing this more as a celebration of life. Of course, there is a tragic angle to it but it's more a celebration of life, which is what really attracted me. Once I put my doubts to rest I was actually thrilled from the word go just to know someone was considering me for the role that wasn't conventional casting.
It must have been fun to play an actress.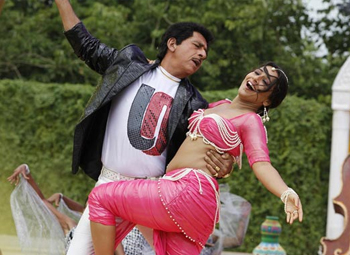 Yes, completely! And a dancing star! In the 80's every film had a dancing girl. The vamps had become redundant in Hindi film so there weren't scenes where they would redeem themselves by the end of the film. They were purely there for the sake of the songs. So, I thought this was something that's not been done so far. It's almost like the unsung lesser-known heroes. Not to mention that some of these girls actually went on to become huge stars without whom the films wouldn't be considered complete, they wouldn't be considered marketable, so they got billing along with the main cast of the film. It's incredible, which is why I thought on a whole lot of counts it was interesting for me to do this film. It's an unexplored, unchartered territory in terms of the subject.
How did you prepare to play and get so inside the character?
I think it was just mental preparation. I really did no other kind of preparation for this film. Mental preparation to be, like I said, unapologetic about being uninhibited. It had to be a no holds barred one. I think over a period of time it developed with reading the script, having discussions with the writer and director, and doing costume trials and all. Also the dance rehearsals were hard, because it's got very suggestive: sometimes lewd, provocative gestures, that kind of dancing of the 80's. I watched a few songs and then the choreographer's assistant and I would play some songs because obviously we didn't have access to the songs from the film yet. But, we would play the song then she'd just do some really over the top gestures and dancing and I would follow her. I thought it would take me much longer to get rid of my inhibitions, but I think in a couple of sessions I was good. All of this helped me get into the skin of the character. I don't know when it happened and how long and what exactly led to that but it was all that.
It must have been a process to really let yourself go and become her.
It's really been liberating. I really enjoyed myself.
Tell us about working with Milan Luthria.
I've worked with some of the best directors and yet I'd say that there is a madness in him, but it is a sane madness. (Laughs) I can't describe it any better. There is a madness to tell a story, and to tell a story in all its glory. Relentless, no shortcut, no compromises at any point. I think that was extremely awe-inspiring. I had anyway decided to surrender myself completely on this one. Unlike any other film, which is more simplistic or had one chain of thought for the character, for this one it almost felt like playing five different people. I had to entrust myself to him, because the script could have easily been a sleazy movie. I knew that his sensibilities would ensure that it didn't end up being sleazy. But, therefore, there couldn't be too many cooks. We had to, more than ever on this film, just go with the captain, whether it was costume designer or choreographer or makeup department head. I think everyone literally worked in collusion without asking, at least I haven't asked too many questions on this one.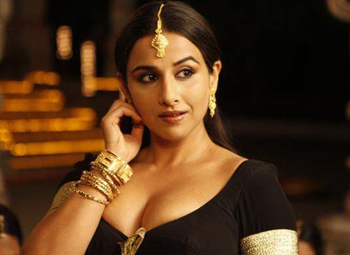 Because you really had to surrender yourself to be her…
Yes, yes absolutely.
Let's talk about your co-stars
Tusshar
Tusshar has been fun. We get along quite well. We both like to chat quite a bit, so, it's been fun. He enjoys doing comedy and our equation together, our relationship in the film is not comical, far from that, but there is a slightly light fun vein to it because he's completely obsessed with this dancing star and he actually gets to be with her. So there's a pinch of 'Oh my God, I've got her!' through it. It was interesting and we had a good time shooting together.
Naseeruddin Shah
Naseeruddin Shah is a legend. This is the second time I've worked with him and both films have seen us play extremely different roles. It's been an honor, and I couldn't have asked for a more supportive co-actor. His generosity really shows through in that he was as supportive as he was because he realized that this was a tough one on me. And there is a certain equation built from the previous film, so it's been wonderful.
Emraan Hashmi
Despite having shared only a few words off camera, I think we managed to spark up a good chemistry on screen. It's been good. I actually realized working with him that he's one of the easier actors for a unit to work with. He's very cooperative. You know, often when actors are on set it becomes like 'Oh my God! He's on set.' He's not like that; wasn't like that at all. He's very easy. I liked his approach, and beside that he's a very understated and effortless actor. There's a certain ease about his personality. It was nice working with him. It was like I said, I think despite not talking to each other too much the chemistry I'm being told is quite good.
So what can audiences expect when they come to see The Dirty Picture?
Three things: entertainment, entertainment and entertainment!
Entertainment hoon?
(Laughs) Yes! Absolutely "Main Entertainment Hoon"!
That's all, just come to see a colorful, vibrant, entertaining film.
The Dirty Picture hits the big screen on December 2nd!