When it comes to fashion there is a lot to be desired in Bollywood. There are not many stars that have been stylish from day one, most have had their style evolve over the years and have thankfully found what works well for them and stuck to it.
Unfortunately the same cannot be said of everyone, and although I know we all have our bad days when it comes to fashion there are some frequent offenders that have had the fashion police knocking on their doors more than once.
The stars on this list are often frequent visitors to our Not Hot lists and are in need of a good stylist stat!
1) Mallika Sherawat
I am not sure whether Mallika Sherawat is trying to become known in Hollywood for her acting skills or for her skill of choosing tacky outfits because at the moment she is getting noticed for her bad wardrobe.
Mallika may think she is making a statement and being different by wearing such 'extravagant' outfits but all she is doing is showing that she has no clue when it comes to fashion. Looking at the outfits Mallika has worn over the years I get the impression that she wants to show off her figure, if so then she should opt for body con dresses, think Herve Leger, that will make her look a bit more sophisticated.
When it comes to hair and makeup Mallika should stick to loose curls and natural makeup with perhaps smoky eyes, depending of course on the event she is attending.
2) Fardeen Khan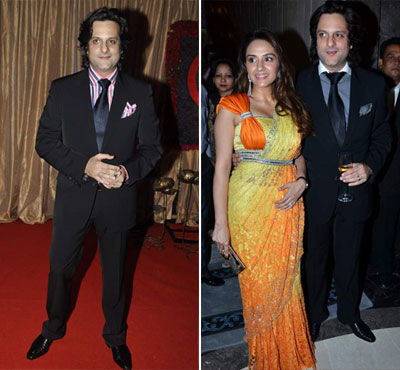 Fardeen Khan is the only actor to make it onto this list and this is because he really has let himself go over the past few years. Fardeen needs to get himself back into the gym and sort out his hair! What is up with that curly hairstyle it looks terrible. Fardeen should cut his hair; the longer length does nothing for him.
As for Fardeen's wardrobe, if he sorts out his hairstyle his outfits wont look so bad. However I do hope he never takes out the pink and blue stripy shirt – it looks awful!
3) Prachi Desai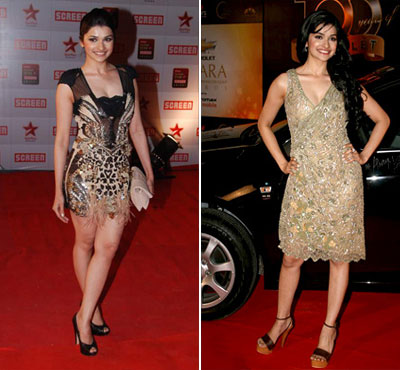 Prachi Desai is one newcomer that needs to sort out her wardrobe stat! Prachi is seen in either 'cute' outfits that are not fashionable or dresses that make her look much older than she is.
I feel that Prachi can pull of a variety of looks; I do feel that she is an actress that needs the fashionable guidance of a good stylist.
Prachi is only ever seen in dark shades and should bring some colour into her life. I think she has the face and figure to work the colour-blocking trend, as seen on the catwalks of Gucci.  From maxi skirts to palazzo pants I think Prachi can work all the various trends as long as she stays away from fussy prints and frumpy dresses that age her.
When it comes to hair and makeup Prachi should have a bit of fun rather than playing it safe so much!
4) Sophie Choudry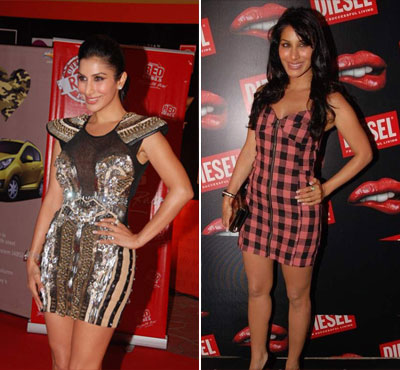 Sophie Choudry is certainly one actress that is no stranger to the fashion police as she often steps out in the worst outfits. I do wish someone would give this girl a wardrobe makeover as she has the potential to look very stylish under the right guidance.
Sophie should look to Kim Kardashian for ideas on what to wear as her look-a-like certainly has a great sense of style unlike Sophie. I think Sophie would look great in designs by Micheal Kors and Versace but she should stay away from bold prints and tacky embellishments.
As for Sophie's hair and makeup I think she can pull off her hair tied up or left loose; soft curls and voluminous hairstyles would look great on the star.
5) Genelia D'Souza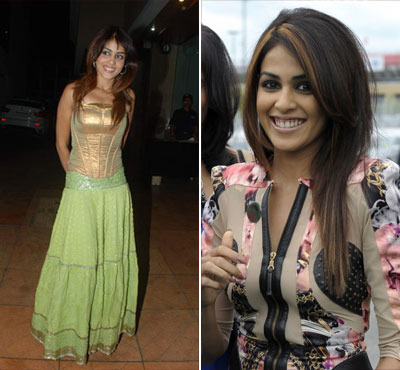 I have lost count of how many times Genelia D'Souza has worn a bad outfit. Genelia can have so much fun with what she wears yet she either wears tacky dresses or mismatched outfits. When it comes to the red carpet Genelia should opt for fun outfits by Versace or Gucci. I would love to see Genelia embrace the ever-popular colour-blocking trend that will allow her to bring out her fun loving personality.
When it comes to Genelia's hair I never want to see those brown streaks (which she debuted at this years IIFA awards) again; they add to the tacky factor. Genelia should opt for loose curls and keep her hair colour natural.
6) Ameesha Patel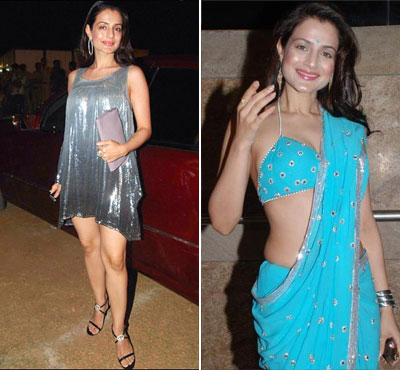 When one thinks of a sari they think of elegance and sophistication, it is the one item of clothing that everyone will look great in, well unless your name is Ameesha Patel!
Ameesha Patel has managed to make the sari look tacky and cheap and I for one wish she would stop wearing it as she is ruining its classic look. The actress needs to stop draping fabric over bikini style blouses that she seems to be fond of. If Ameesha wants to carry on wearing sari's then she should look to designers such as Manish Malhotra or take notes from fellow actress Celina Jaitley who knows how to work the sari.
Even when it comes to western attire Ameesha always manages to add a vibe of tackiness to her outfit; I am starting to think that Ameesha likes to look like she is going to a tacky disco because that is how she always dresses. Ameesha needs to invest in some classic designer pieces with longer hemlines, think Chanel and Lanvin.
As for Ameesha's hair and makeup she should loose that awful light red colour lipstick she is always spotted in and stop wearing so much blusher; in this case less is more.
7) Asin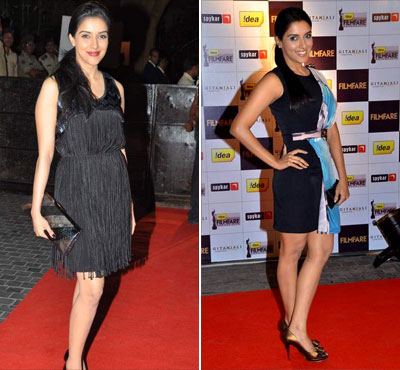 Asin is a very pretty actress but her wardrobe lets her down on screen and off screen. After watching the film Ready I do feel that Asin needs to fire her stylist and makeup artist stat, as she looked terrible.
Asin seems like a fun loving person and she should translate this into her outfits rather than opting for unflattering and boring dresses that she is usually seen in.
For the red carpet Asin should choose dresses that are long and flowing in bold colours such as pink and blues. For casual wear Asin should stay away from jeans and stick to palazzo pants and maxi skirts that would emphasis her feminine features.
When it comes to hairstyles Asin should keep her hair down in loose curls and keep her makeup natural.
8 ) Kangna Ranaut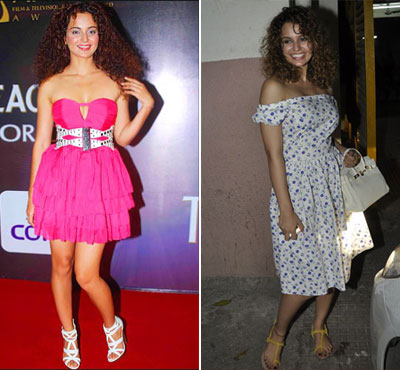 Kangna Ranaut is one actress that sometimes will dress well but then she will ruin it by wearing a variety of hideous outfits. She seems to know what to wear at award ceremonies; it's her casual clothes that worry me.
Kangna used to be known as stylish but now it seems the actress is trying to move away from this title. She needs to get her wardrobe sorted and throw away all the frumpy and tacky outfits, especially that floral number above! I would love to see Kangna embrace the trendy midi skirt or the coloured jeans trend paired with a quirky t-shirt.
I do like Kangna's curly hairstyle; curls are very trendy at the moment. She should however keep the colour black and make sure she keeps her makeup natural, to avoid her looking too clown like.
9) Vidya Balan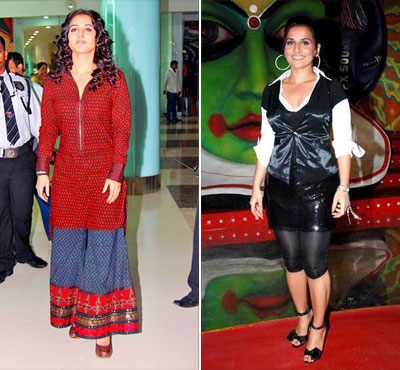 If Vidya Balan had thrown out all her clothes apart from her Sabyasachi sari's she would not have made it onto this list, because lets face it when Vidya is not wearing a Sabyasachi sari she looks really bad!
The actress has no concept of style when it comes to wearing western outfits. In fact I am not even sure where she buys some of these hideous outfits from – doesn't anyone tell her before she walks out of the door to change!
Vidya has a traditional beauty about her and personally I think she would look much better if she only wore the silk saris that she wears so well. If she does not feel like wearing a sari then she should opt for an anarkali style churidaar.
When it comes to hair and makeup I think Vidya has found what looks work for her, natural makeup and eyeliner suits her best as it emphasis's her natural beauty. When it comes to her hair she should keep it simple.
My word of advice to Vidya, please get a stylist who understands what suits your traditional looks and figure!
10) Aishwarya Rai Bachchan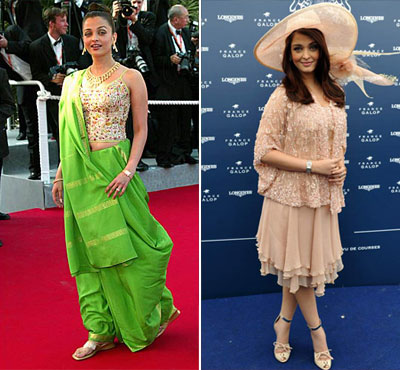 I may be causing some up roar amongst Aishwarya Rai Bachchan fans but when it comes to fashion the actress really could do with a wardrobe makeover.  Aishwarya is no stranger to our Not Hot list and has gained the title of Fashion Sinner more than once.
Aishwarya Rai Bachchan needs to get a new stylist, one who understands her body shape and what kind of clothing suits the beautiful actress's figure. When it comes to wearing Western attire Aishwarya gets it wrong more than she gets it right. As an actress who walks down international red carpets she needs to start choosing gowns that match up to the international standards. I would like to see Aishwarya opt for gowns that are not so low cut and have a softer feel to them, think Valentino, Versace and Vera Wang.
As for hair and makeup I do think Aishwarya needs to stop letting her hair stylist tie her hair back; softer curls and loose hair suits Aishwarya more as does the natural makeup.