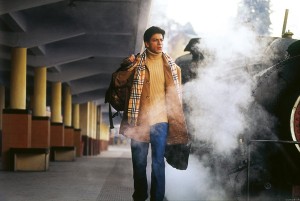 Famous for her renowned choreography, Farah Khan teamed up with superstar Shah Rukh Khan to make her directorial debut with Main Hoon Na (2004). This megahit film stars Shah Rukh in the leading role, along with Zayed Khan, Amrita Rao and of course the beautiful Sushmita Sen. Main Hoon Na is celebrating its 10th anniversary this year, which helped to solidify Shah Rukh's status as the reigning king of Bollywood at the time!
To mark this special occasion, the team at BollySpice present to you 10 reasons why we cannot get enough of Main Hoon Na! Enjoy!
1.) The scene where Shah Rukh is mesmerised by Sushmita Sen and sings 'Chand Mera Dil.' This is perhaps a moment that we can all relate to thinking back to our school days and that one teacher who we hopelessly had a crush on.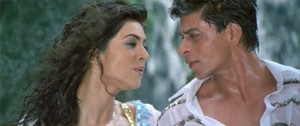 2.) Sushmita Sen and Shah Rukh Khan's prom night performance in the song 'Gori Gori Gori.' The typical Bollywood dance and Sushmita's sexy red saree made everyone go crazy. Shah Rukh's charm just made the scene memorable.
3.) One of the best things about Main Hoon Na is the colourful, passionate qawalli 'Tumse Milke Dil Ka Jo Haal.' The energy, the cinematography and the fantasy tone makes this song perfectly, romantically BOLLYWOOD!
4.) The hillarious comedy, especially from Boman Irani, Satish Shah and Bindu. We could watch their comedy all day long.
5.) Javed Akhtar's nicely written lyrics. They complemented very well with a number of key scenes in the film which only reminds you just what a fantastic writer he is!
6.) The cool trend which Farah Khan has started with this film. She includes her entire unit in the last song. The way she presents her credit roll is amazing. Right from the actors to all the people involved in the making of the film have been made a part of the song.
7.) Many ladies at BollySpice relished seeing the moment when Shah Rukh is in a white shirt and then drenched in water (reportedly Farah Khan's favourite)!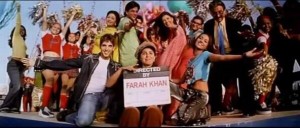 8.) The song 'Chale Jaise Hawayein,' pictured on Zayed Khan and Amrita Rao. That song was shot in one single take, with a single camera. Innovative for the time and classic Farah Khan, who despite already having her hands full with directing the film, still manages to find time to be extra creative with her choreography!
9.) Main Hoon Na has a great title song sung by the resplendent Sonu Nigam. It not only formed the film and gave it backbone; it can also resonate perfectly with many people's own life philosophy.
10.) The action sequences in the film were well conducted. Shah Rukh managed to demonstrate that he can do more on screen than just romance women!