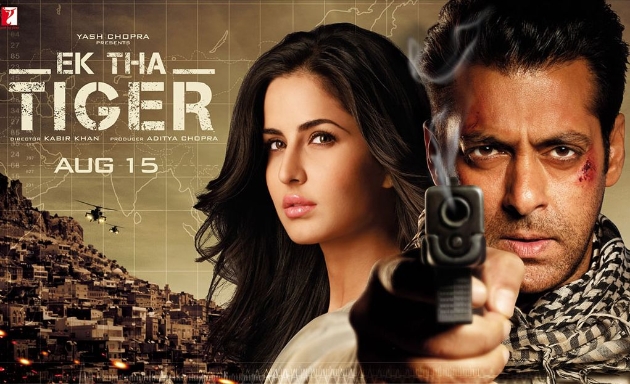 Once again on Eid this year, is the latest of Salman Khan, and if reviews are anything to go by, it is going to be yet another super hit from the superstar! There are number of reasons why we can predict success or failure of a movie by looking at its formula, the media speculation and word from the film industry.  Here is why we think Ek Tha Tiger will be a Super Hit!
The cutest and hottest couple of Bollywood is back again in this movie after4 years. This is their first movie together after their speculated breakup in 2009. Audiences are keen to see the chemistry of their favorite couple on screen again.
Salman Khan's past lineup of hits came around Eid's holiday period, so this is also a big reason behind the film's predictable success. 'Wanted', 'Dabang' and 'Bodyguard' were all bull's eye in previous years.
There are political concerns from the neighboring country as the movie is rumoured to be anti-ISI. The uncertainty and news of banning the trailer of the film has created a great hype in the Pakistani society. The director of 'Ek Tha Tiger', Kabir Khan is confident that once the Pakistani censor board watches the full film, they will have no issue on its general release. He said, "EK Tha Tiger is not an anti-Pak film and the mention of RAW and ISI in the film does not mean we are showing them in a negative light." Adding, "Unlike the last film 'Agent Vinod' which was banned and had direct mention of the names of senior ISI officials, there is a just a reference."
This is Salman Khan's first film with yash Raj Films and fourth with Katrina Kaif after Yuvraaj.
The stunts in this film are said to be extraordinary. The couple was trained for some of the stunts by Conrad Palmisano, a Hollywood action director. Katrina said in an interview, "I have shot some really exciting stunts in Ek Tha Tiger. It was an electrifying experience for me. I don't think I've done something like this before."
With an estimated budget of 117 to 120 crore, this is one of the most expensive Yash Raj Films.
It has been said that Katrina is not wearing any makeup in the entirety of this film, so here is your chance to see her au naturel.
The music of the film has made waves worldwide especially songs like Maashallah, Laapata and Banjara topping charts.
If you know anything about Belly Dancing, then you must know how sexy it is. Now picture Katrina Kaif in those costumes shaking her hips to melodious tunes. The actress has gone under training to perfect belly dancing. We are sure excited to watch that on the big screen!
As evident from his recent films, Salman delivers great dialogues in 'Ek Tha Tiger' that will be remembered and repeated for years to come.
Ek Tha Tiger releases this Wednesday, 15th August. Here's your chance to celebrate Eid and Independence Day in ishtyle!
In case you missed the trailer