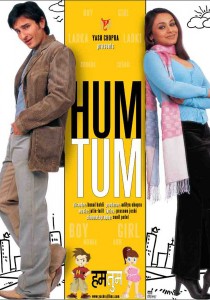 Starring Saif Ali Khan & Rani Mukerji, Hum Tum released on 28th May 2004. The movie not only gave a boost to the lead's career graphs but also registered it's name as a modern day classic in the history of Bollywood. Directed by Kunal Kohli under the YRF banner, the animation used in the movie not only took the narrative forward but also won gazillions accolades with the cartoon characters, Hum & Tum becoming a cult craze. Today, Hum Tum completes 10 years of it's existence in Bollywood and to celebrate this day, BollySpice brings you a look at the Top 10 Things that make Hum Tum what it is (in random order).
10. The Dialogues
One of the biggest strengths of the movie lies in it's beautifully written dialogues by Kunal Kohli. Each one of them manages to touch your heart at some level or the other. At times, they make you laugh and at times, make you empathise with the characters. Whether it's the cult "It's my Tom Cruise look, yaar" OR the more meaningful "Kabhi toh pehli mulaqat hi kaafi hai aur kabhi bahut si mulaakatein lag jaati hain," they all remain memorable.
9. The Supporting Characters

Another highlight of the movie were it's supporting characters where all of them had an important part to chew out in taking the narrative forward. Kirron Kher as Rani's mother added the much needed humour to the film and won alot of hearts with her effortless portrayal of a typical desi Punjabi mom. Rishi Kapoor & Rati Agnihotri played Saif's parents, who had been separated for years due to personal conflicts. Their characters gave a dramatic backdrop to the story resulting in Karan's confusion regarding love. Jimmy Shergill as Mihir Vora played Saif's best friend who initially is to hook up with Rhea but eventually makes her realise that Karan loves her. In a cameo as Sameer, Abhishek Bachchan played the role of Rani's husband who dies in an accident and instantly her life takes a 360 degree turn.
8. The Direction

It's said that a film director is the captain of the ship and rightfully so. After all, his movie is his baby & he's the boss there. After directing Mujhse Dosti Karoge! in 2002, which could not create an impact at the box office, Kunal Kohli took a giant leap as a filmmaker with Hum Tum, in almost every aspect. Not only did he shoot the movie exceedingly well, but managed to extract out brilliant performances from every single actor. Hum Tum's direction was one of it's strongest points which even got Kunal his first ever Best Director Award and deservedly so.
7. The Story

If director is the captain then the story is the soul of the film. Hum Tum tackles the age old issue of boy-girl relationship albeit with a certain refreshing element to it. The movie has everything that one needs in order to be a successful venture: acclaimed banner, talented star cast, songs and dances, emotional quotient, romance, etc. but what sets it apart is that it has it's heart in the right place. Even though the movie draws it's inspiration from the 1989 Hollywood film, When Harry Met Sally, it has it's own pleasant charm. The movie is full of humour and emotions, and you find yourself laughing and crying with the characters. What makes it a favourite among people is that it deals with relationship issues but is light hearted and fun at the same time filled with romantic moments.
6. The Animation

Even though animated films had been a part of Indian cinema for quite some time, for the first time, Hum Tum brought in the concept of using animation in an non-animated movie as a part of the narration. The cartoon character's in the animation are named as Hum & Tum and are the creation of Karan's imagination who is a cartoonist. The animated scenes crop up at every crucial phase in the narration, with Hum & Tum battling it out with each other adding more fun to the film. Even though the movie was not an animated one, Hum Tum, apart from numerous other awards also went onto win the award for Best Special Effects.
5. Hum&Tum- The Cartoon Characters

Even before the movie had released, the cartoon characters, Hum & Tum began creating waves across the nation. They were used heavily by the production house to promote the movie which definitely worked in their favour. From newspaper clippings to merchandises, they attracted people from everywhere. Alot of comic strips with the cartoon characters were released as a promotional strategy highlighting the boy-girl relationship. Till date, Hum Tum is remembered for it's cartoon characters just as much as for it's refreshing appeal.
4. The Songs

A true blue desi masala movie is incomplete without it's song & dance sequences and Hum Tum is no exception. Not only are the songs of the movie extremely likable but they're all beautifully picturised too. And not to forget, there's a song for every mood. Be it the fun & jesty "Ladki Kyun", the romantic "Hum Tum", the pleasant "Chak De", the foot tapping "Gore Gore" or the peppy "Mere Dil Vich Hai Hum Tum". The music given by the music director duo Jatin-Lalit was appreciated whole-heartedly. While Alka Yagnik won the Best Playback Singer award for the title song, Prasoon Joshi went onto bag his first ever Best Lyricist award for the same song.
3. The Jodi

Hum Tum marked the collaboration of two of Bollywood's most versatile actors, Saif Ali Khan & Rani Mukerji for the first time ever. With such well written characters & their impeccable talent, it only made sense for these two to sizzle onscreen. They brought a certain refreshing element to the movie, which was visible throughout. Not only did they charm the audiences with their amazing chemistry but also went onto bag The Best Jodi Award at a few ceremonies. Undoubtedly then, their Jodi is one of the reasons why we love Hum Tum so much!
2. The Performances

To say that Saif & Rani gave one of their career best performances in the movie would not be wrong. Rani managed to exude all her character's emotions effortlessly, getting you to empathise and laugh with her in a number of scenes. It's an applaud-worthy performance which is fresh in people's mind till date. Saif proved why he's inevitably the king of comedy. Moreover, people got to witness an intense & deep side of his talent too. He totally aced the funny & emotional scenes. Hum Tum established them as stars & they both went onto win numerous awards for their performances with Rani winning her first ever Best Actress Award & Saif bagging the prestigious National Award.
1. Favourite Scenes
We cannot not mention our favourite scenes from the movie while writing a feature on it. Let's have a look at some of them.
Karan tries to comfort Rhea:

Karan, the matchmaker for Rhea:

Kabhi toh pehli mulaqaat hi kaafi hai, aur kabhi bahut si mulaakatein lag jaati hain

Ladka aur ek ladki kabhi dost nahi ho sakte, kyunki yeh pyaar hamesha beech mein aa jaata hai

Tum mein sirf ek hi problem hai ki Tum ke bagair Hum adhoore hain

Kya tum mujh jaise ladke ke saath khush rahogi, Rhea?

No wonder, the movie still remains such a cult classic. Feeling nostalgic yet? That was the purpose. Hope you guys enjoyed reading the feature. Here's wishing all the fans out there, a Very Happy 10 Years of Hum Tum!