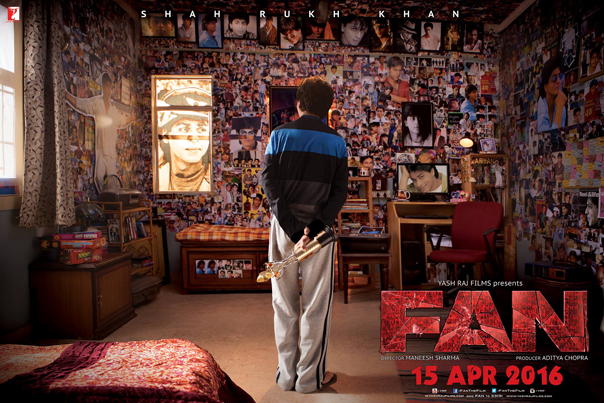 Yes, dear Shah Rukh Khan fans it is only 100 days until you get to watch Shah Rukh Khan in Fan! Yash Raj Film's have come up with a very cool way for you to countdown until the film, directed by Maheesh Sharma, hits the big screen on April 15th!
Shah Rukh Khan's biggest FANS are here to start the perfect countdown to 100 days of Yash Raj Films' next FAN with 100 Fan Videos and 100 FAN-tastic trivia!
What is also very very cool is that each of these very special 100 Fans has an eternal place in the logo of the film.
Check out the Shah Rukh Khan Trivia 100 – Countdown to FAN

Ashish Patil – Vice President of Brand Partnerships at Yash Raj Films shared, "We've always liked to innovate with all we do, be it our content or brand partnerships. And this is the first time in India that a promotion of this nature has ever been done for a feature film. 100 fans, getting immortalised as part of a Shah Rukh Khan and YRF Film logo. Backed by 100 videos that they feature in released as a countdown to the release of our next big tentpole – Fan. We're thrilled to have partners like Yepme who don't just push fresh fashion, but also fresh ideas in their marketing tie-ups. Fans are in for a treat with some really fresh trivia as well. Truly FAN-tabulous!"
Talking about the association, Vivek Gaur – Founder & CEO, Yepme.com added: "Yepme's association with the movie FAN and its #iamfan contest was a good step to amplify engagement between the brand and our customers. It generated a lot of interesting communication on our social media platforms. Undoubtedly, Shah Rukh Khan with his huge fan base strengthened our vision as a global brand. We will continue to explore such opportunities further to enhance our Fresh Fashion brand communication, as Bollywood continues to influence fashion in our country. We wish all the luck for the movie release and it would definitely be a huge success."