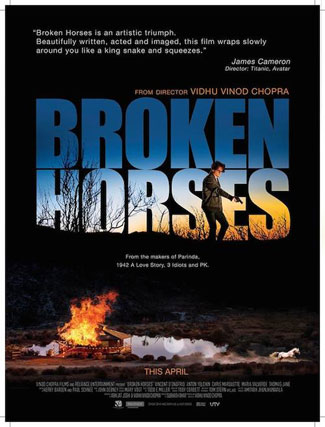 Vidhu Vinod Chopra has produced some of the best in Bollywood from 1989's Parinda, to 2003's Munna Bhai MBBS and the follow up Lage Raho Munna Bhai in 2005, Parineeta in 2005, 3 Idiots in 2009 and last year's big hit PK. After making some brilliant films in Bollywood, the director decided to pursue a long held dream of making a film in Hollywood. What is even cooler is that he is just not producing the film, he also wrote and directed the thriller titled Broken Horses. The film stars a huge cast of Hollywood stars including Vincent D'Onofrio (The Judge, Full Metal Jacket, Men In Black), Anton Yelchin (Star Trek, Alpha Dog) and Chris Marquette (Alpha Dog, The Girl Next Door) along with Spanish actress, Maria Valverde (Exodus), Thomas Jane, and Sean Patrick Flannery.
Broken Horses is about the bonds of brotherhood, the laws of loyalty, and the futility of violence. About the relationship between two brothers – a concert-level violinist and a hired mercenary – and is set against the drug war in the turbulent American-Mexican border. About how wrong choices can destroy lives and everything one loves.
Vidhu Vinod Chopra recently sat down to talk all things Broken Horses, movies and more with Shai Hussain for a special interview for The NRI and shaihussain.com, and we have highlights!
The director revealed that it was his Oscar nomination in 1979 for his documentary, "An Encounter With Faces" that began his dream of making films in Hollywood. "I was a very young kid when I got nominated for an Oscar in 1979, and that's when the seed to make a Hollywood film was planted in my mind."
He says after the success of the super duper hit 3 Idiots that he felt it was time to go back to Hollywood, "I thought then that I'd achieved what I'd set out to in India, so I went back to that American dream."
Though his Indian film Parinda inspires the story of Broken Horses, he explained it had to be a film for the Hollywood palette. "This is a completely different kind of cinema. It's not a remake, but inspired by the original. It can't be the same. Bollywood is just a completely different art form. You can't be over the top and break into song for films here. This cinema is inspired by Parinda, but it's very different. It's very Hollywood."
It apparently took Chopra and co-writer Abhijat Joshi four years to complete the script. He added, "We wrote the script first and then everything fell in place. I got Vincent D'Onofrio, Anton Yelchin, and Tom Stern who was Clint Eastwood's DOP for American Sniper – everybody comes to you primarily because of the script. If the project is written well, it will attract the right talent."
The film and Chopra have received praise from ace directors like James Cameron (Titanic, Avatar) and Alfonso Cuarón (Gravity). "I'm very happy with people the likes of Jim Cameron are enjoying it. It was really a great high for me, as I felt that I had done justice not only to my own dreams, but the dreams of many South Asians."
Chopra thinks the film will appeal to 'a Western audience, and to South Asian audiences alike, as it will make them proud that we can do something as good if not better than Hollywood'.
The director/writer/producer also revealed that he is looking to make some of his biggest Indian hits in Hollywood. "I'm actually talking to a few studios to remake the likes of 3 Idiots and PK, which was recently released in China. More and more films that I make in India will get remade into films for Hollywood, and vice-versa."
What about the US remake of Munnabhai? "I don't like the script yet, but once we like it we will do it. The bottom line is I never make a movie unless I feel that this film will bring me happiness. It's not about money – it's about happiness. I know it's strange that someone like me is saying this, with some of the biggest hits India has, but I have always sought joy, happiness and satisfaction with my spirit rather than any amount of bucks. But money has just flowed in!"
Broken Horses hits theaters on April 17th.