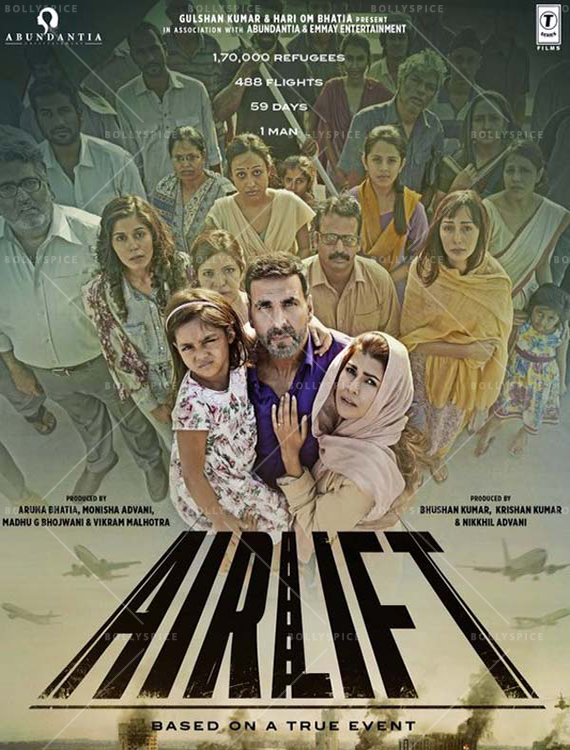 2016 is the year that the lives of public figures such as Indian Cricket Captain Mahendra S Dhoni, former cricketer Mohammad Azharuddin and the late heroic flight attendant Neerja Bhanot, will be depicted in reel-life. And kick-starting this year's trend will be Akshay Kumar's AIRLIFT, an edge-of the seat thriller. The film is based on true events during the Gulf War in 1990 where the world's largest civilian evacuation in history took place — over 170,000 Indians were airlifted using 488 flights in just 59 days.
The film focuses on the heroic story of the Kuwait-based Indian businessman, Ranjit Katyal, who masterminded the rescue operation. International icon Akshay Kumar essays the role of Katyal in Airlift.
Talking about the film Akshay said, "If you browse through the Guinness Book of World Records, the biggest air evacuation was done by our beloved country, India. And this is why I selected to do this subject as I wanted to bring it in front of everybody. It's a very special movie. Do go and watch the film and you'll feel proud to be an Indian."
To bring the evacuation theme of the film to life, fans were given digital evacuation passes to watch the trailer exclusively on the day of its release. International icon Akshay Kumar unveiled the official trailer of Airlift on twitter, which crossed a staggering 3 million plus views within 24 hours of its launch.
Check out the trailer!

The trailer received applaud from the public, media, celebrities, trade analysts alike who rushed to social media platforms to praise the film's hard-hitting, gritty storyline as well as Akshay's nuanced performance. Some even say it will be one of the best true stories ever told.
Some of this film colleagues who tweeted said:
Anupam Kher – "Loved the trailer of #AIRLIFT. @akshaykumar, my friend, you are doing some very exciting work. Jai Ho.:)"
Hrithik Roshan — "@akshaykumar @AirliftFilm Akshay, this is looking dam good my friend! Will love to see it. Tell me when. Promises to rock!"
Siddharth Malhotra – "What a thrilling n intriguing story #AirliftTrailer excited to my brother in this one @akshaykumar kill it."
The trailer starts with a call to Ministry of External Affairs where Akshay (as Ranjit Katyal) wants to discuss the situations of the Indians living in the country and asks for immediate help. But what he witnesses is the politics and bureaucracy between India, Iraq and Kuwait. From then on, the story centres around Ranjit's situation of risking his family's life to do the right thing whilst leading this heroic mission of evacuating Indians.
Airlift weaves a story around one man's mission to evacuate Indians from foreign shores during troubled times along with hints of politics, diplomacy, bureaucracy, love and patriotism. An incident that was hidden till now and finds no mention in the text books, Airlift aims to bring serious facts to the audiences worldwide.
Directed by Raja Krishna Menon and starring Akshay Kumar and Nimrat Kaur (Homeland, The Lunchbox) Airlift releases internationally on 22 January 2016.