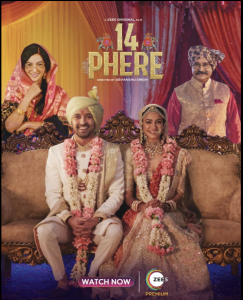 14 Phere, now streaming on Zee5 is a rom-com with lots of happily ever after romance, laugh-out-loud comedy, and brilliant performances. Directed by Devanshu Singh, the film stars Vikrant Massey and Kriti Kharbanda as well as Gauahar Khan and Jameel Khan in pivotal roles.
14 Phere tells the tale of Sanjay who woos Aditi in college, they fall in love and quickly realise that they are meant to be together. Their parents believe that the caste system establishes a cohesive social order and so they would never give their consent to their marriage. Sanjay is a Rajput from Jahanabad, and Aditi, a Jat from Jaipur. Sanjay and Aditi, want to get married, but don't agree and don't want to hurt their families. So the pair decide to do something outrageous and pagal honestly so they can still get married. You will see what happens when this madly-in-love couple goes over the top to make sure they are spending their lives together.
It has been quite a while since I have seen a film that is a love story with love, full of comedy, twists, melodrama, a spotlight on social causes and so much more. It was enjoyable, engaging, made you think how are they going to pull this off, and make you feel every emotion be it love, laughing, anger, and in the end want to celebrate the happily ever after. This is a testament to the writer Manoj Kalwani, the director, and the brilliant performances by every player in the film.
With a film like this with so many stories playing out on screen, you would think you would be taken out of the story and the world but you never are. You are along for the ride and as I said cannot wait to see how it all ends once the last scene is done and it fades to black. It was a lot to tackle but by the end, it comes together and works.
The social commentary and the ideals of the families are presented thoughtfully, not comically while seeing the role it plays it in Sanjay and Aditi's and other character's lives. That layer and how it was presented made it feel more real to this story.
On the negative side, I wish they had shown more of the development of the romance between Sanjay and Aditi. I needed more rom in the com. I did not really feel the love at first and throughout the first part of the movie. I knew they were in love but would have loved to see a let's get married discussion too. It was later I saw it was true love.
Also, the sister story was maybe one layer too much, I would rather they edit some of those scenes out and add the beginning of their romance more. However, the main tale of Sanjay's sister gives insight, and you are awarded by some great moments in the film.
Sanjay's theater and acting side hustle did not really come through (was that what he always did and wanted to do)… it seemed more of a way to get the story to go ahead. It was never really brought up again and his acting in the way they get to being married did not play out as a character, not Vikrant Massey in his performance, the character Sanjay.
Coming to Vikrant Massey, he was very good in the beginning but as his character develops his emotions really came through his eyes. His relationship with his Ma, his frustrations, his GOT IT moments… I really thought by the end he was fabulous.
Kriti Kharbanda was also good but I felt she lacked a spark in her eyes and her delivery. She did give very good emotional eyes towards Sanjay's Ma and you felt everything without her saying a word. It was not a bad performance AT ALL, it just could have been more.
Together they were great, but again I needed more tender moments, but many scenes later in the film you knew the love, without them saying anything.
The best of the cast, who shined (Chamak), was Gauahar Khan as Zubina. Playing three different "roles", she was perfect! From the "star who says she is Meryl Streep", to the older characters (though the make-up could have been better) she takes on – she was perfect! Full of energy and life, this character could have gone over the top but she was brilliant. Brava!
Yamini Das as Sanjay's mother did not have many lines but she spoke volumes. I loved her performance.
The rest of the cast from Jameel Khan (a bit wasted), to Vineet Kumar, Govind Pandey, Rajendra Bhatia, and the rest of the cast was wonderful. Never was a line delivered or an action made that took you out of the story of the film.
The music composed by Raajeev V Bhalla was also really fabulous. A mix of modern beats, ballads, and classic tracks added to the film and did not seem extraneous – there wasn't a lip-synch track it was just the background music of the film.
As I said, I do wish there was more rom but I am so happy that there is a rom-com, that is not a 'new way' to tell a rom-com story. It felt like a classic Bollywood film and I loved it! Some missteps but in the end I really enjoyed it!
Do check it out!