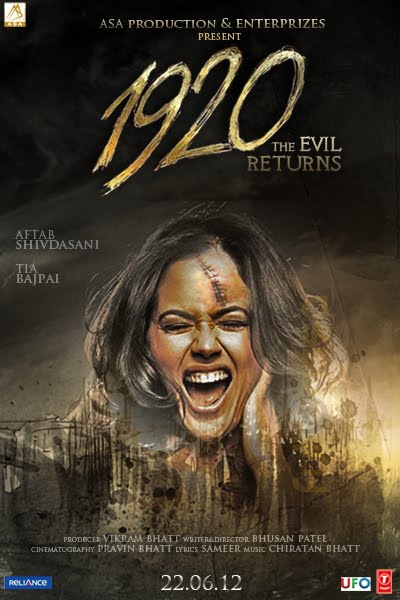 1920 – Evil Returns is a forthcoming horror film (a genre that is rarely present in Bollywood) and is a sequel to the film 1920 (2008). It stars Aftab Shivdasani, Tia Bajpai and Vidya Malvade in the leading roles and is all set for release on 2 November 2012. According to the synopsis, the film is based on a poet called Jaidev (Aftab) who meets a young woman called Smruti (Tia) by a lake. He forms a relationship with her and later discovers that Smruti has lost her memory (the only things she remembers is his poems). Whilst they are staying at a guesthouse (they are en route to a hospital so Smruti can get treatment), Smruti becomes possessed by a spirit that is present in the guesthouse. You will have to wait until this spooky movie releases to find out what happens!
The music director for the film's soundtrack is Chirantan Bhatt. He has composed songs for films like Mission Istaanbul (2008) and most recently for Haunted – 3D (2011). The lyrics have been penned by Shakeel Azmi, who has written songs for films like Zeher (2005) and for Haunted – 3D also. So let's explore what 1920 – Evil Returns has to offer to us Bollywood addicts!
We start off with Apnaa Mujhe Tu Lagaa, which is performed by the charismatic Sonu Niigaam. It is a power ballad and you can hear a selection of instruments such as the guitar and the piano as part of the composition. Sonu's vocals are perfect and he gives it his absolute all in this song. The music has been finely composed and as a result, it is difficult for me to find any specific problems with it. Hence, this song is most certainly worth listening and Sonu's harmonious voice makes it all the more special!
Next up we have Uska Hi Banana, sung by the young Arijit Singh. It is a dark song and understandably so, since it complements the theme of the film. Arijit sings the song with power and raw emotion! The music also suits Arijit's voice very much. Though it is not an 'outstanding' song, it has been well-composed and surely deserves a listen!
Jaavedaan Hai follows and this has been performed the talented K.K, with Suzanne D'Mello providing mild backing vocals. Instruments such as the drums, the piano and bagpipes can be heard in this catchy number. The song has been sung smoothly by K.K and the music itself is also flavoursome. Definitely not a song which I would skip so give it a try and you may end up liking it.
The album also has Khud Ko Tere, sung by the lovely Mahalakshmi Iyer. This is a beautiful song and it has been performed by Mahalakshmi with passion and emotion. I very much enjoyed listening to her voice in this song and it reaffirmed for me that she is a truly gifted singer who is full of talent. I also love the music and it has been thoughtfully composed. It has a 'desi' feeling to it with the use of Indian instruments like the tabla. Yet Western instruments are not absent and this is apparent with the use of the violin. A song which I strongly recommend you hear!
Finally we have Majboor Tu Bhi Kahin, which is performed by Amit Mishra. This is probably the weakest song in the album and I just did not find it that alluring to listen to. Although Amit sings well in this song, I did not find the music to be of the same standard compared to the other tracks in the album. Therefore, I would classify it as a song which could have been much better.
To sum up, I must say that I am actually quite impressed with the soundtrack to 1920 – Evil Returns. I did not expect it to be so good and as a result, I recommend that you give this album a chance since there are some catchy tunes that will certainly impress you. What makes it even sweeter is that there are no remixes, which arguably would have affected the quality of the album as a whole. Chitrantan Bhatt is indeed a talented music director who has clearly worked hard here to create an album of a very good standard. A soundtrack which deserves your ear's attention!