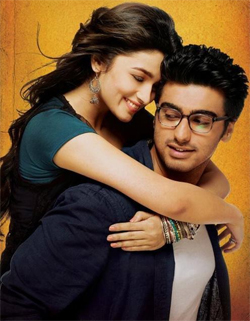 The opening weekend for 2 States has opened to double digits in India and has taken impressive opening at the UK BO too.
Sajid Nadiadwala and Karan Johar are overwhelmed with response to their first co-production 2 States, starring Alia Bhatt and Arjun Kapoor. On Friday the film opened to 12.42 cr, Saturday was steady at 12.13 cr, Sunday was 13.51 cr. The film earned a total of 38.06 crore in India on its first three days.
The film opened at number 11 on the Official Box Office Charts, earning £208,579 from 63 screens.
Karan Johar says, "In my experience, a love story always receives its own share of love from everyone concerned. I can rightfully say this because we, at Dharma Productions, have personally witnessed this."
"I started my career with Kuch Kuch Hota Hai, a love story, then we had Yeh Jawaani Hai Deewani in May 2013 and now with 2 States — we have put out a bouquet of love stories that have found a strong resonance with the audience. They get the scent of a film from the very start and I now have proof in my hands that they are just loving this Alia-Arjun romance," added the My Name Is Khan director.
Karan says there is a lot to celebrate on the account of 2 States as it is his first outing with producer Sajid Nadiadwala which he enjoyed. "Touch wood, there were no glitches whatsoever throughout the making. The journey on 2 States was seamless and another reason is the fact that debutant director Abhishek Varman, who got his break with this film, is from Dharma's core team."
"My faith in Chetan Bhagat's book and in Abhishek's adaptation stands validated. I had an instinct on Abhishek right from the start. And now that he has delivered, I feel like a proud parent,'' said Johar.
2 States is in UK cinemas now.