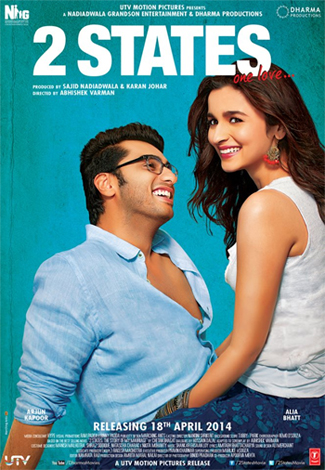 After the success of 3 Idiots and Kai Po Che!, Bollywood turns to Chetan Bhagat one more time. This time it is 2 States, the novel inspired by the author's life. It has been one of the most awaited releases of 2014 since the project was announced, and the promotional machine did nothing but increase the expectations. Keep reading to find out our verdict!
2 States is the story of Krish (Arjun Kapoor), a Punjabi boy, and Ananya (Alia Bhatt), a Tamilian girl, that fall in love while studying at the Indian Institute of Management Ahmedabad. However, they will have to overcome their parents' opposition in order for their love to succeed. It is directed by Abhishek Varman and produced by Nadiadwala Grandson Entertainment and Dharma Productions.
The film is clearly divided into two parts, the romance and the family issue. As the focus is on their parents and their objection to the relationship, the love story between Krish and Ananya is very (maybe too) summarized to a bunch of scenes and a couple of song sequences. One of the elements that had been intensely advertised was the leading couple. There is certainly chemistry between Alia and Arjun, but the film fails to exploit it in a hasty love story. The stars are surrounded by a supporting cast that does a correct job in depicting Krish and Ananya's families, although some of their scenes end up being excessive and a bit repetitive.
Despite the cast doing a good job, the film has several important flaws. Director Abhishek Varman fails to deliver a fluid piece. The rhythm of the film is irregular, the transition between romance and drama is overhasty, and the execution is quite sloppy.
Music is overall good. Although it may not be a memorable soundtrack, most songs manage to complement the film as the story develops. Cheerful tunes such as Offo and Locha-E-Ulfat add colour to the romance, while more melancholic songs emphasise the moments of sorrow.
2 States is an enjoyable film, though an average piece of entertainment. It feels too long and the narration is quite irregular. The story would have benefited from a better balance between romance and drama, which would have allowed the leading couple's performance to stand out more intensely.