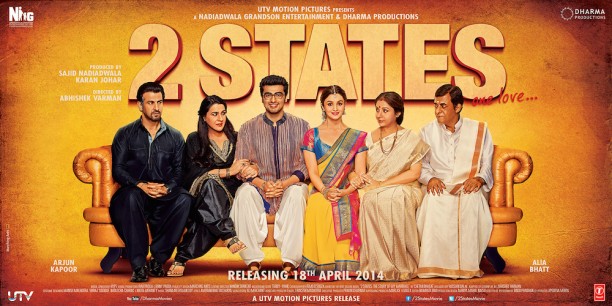 Following the mega-success of his previous novel-turned-film 3 Idiots (2009); you will soon see Chetan Bhagat's romantic novel 2 States on celluloid when it releases on 18 April 2014. Starring Arjun Kapoor and Alia Bhatt in the leading roles, the film is based on a North Indian boy falling in love with a South Indian girl and both have to deal with the cultural rivalry amongst their parents. The music to the film has been composed by trio Shankar-Ehsaan-Loy, with lyrics by Amitabh Bhattacharya. Given the strong publicity surrounding the film, does the music to 2 States live up to our expectations? Read our review to see what we thought of it!
First up is 'Offo,' sung by Aditi Singh Sharma and Amitabh Bhattacharya. I like the youthful flavours of this song and instruments such as the electric guitar and drums have been well incorporated into the composition. I think this song is cool but is definitely not one of the major highlights of the album. Nevertheless, do check it out as it has been respectably composed and may well win you over!
Next is 'Locha-E-Ulfat,' which has been sung by Benny Dayal. I love this song and it is undoubtedly the best song in the album. The catchy bagpipe music and Benny's soulful yet masculine vocals make this a winning number. In addition, having seen the video promo to this song, it is well picturized on Arjun Kapoor and he ensures that his dance moves are of the same standard as this song. You will be a fool to miss out on this catchy tune so do give it a listen and I can assure you that you will be instantly hooked to it!
Following this we have 'Mast Magan,' a duet by Arijit Singh and Chinmayi Sripada. I enjoyed hearing the lyrics to this song, which gives it that romantic touch. The standout performance is definitely Arijit Singh which sings with immense passion, which is crucial for a song such as this one. I loved it and I think you will too!
'Iski Uski' is next and has been performed by Akriti Kakar and Shahid Mallya. I found the music to be slightly bizarre and it just did not work for me. Sadly, this is probably one of the weakest tracks in the album and it will therefore have little impact on you.
Next up is 'Chaandaniya,' which has been sung by K. Mohan and Yashita Sharma. Parts of this song were enjoyable to hear, but I think it could have benefited from a more catchy composition. Having said this, both singers perform well with what has been presented to them. My main problem was with the music, which ultimately weakens the quality of the song.
Finally there is 'Hulla Re,' sung by Shankar and Siddharth Mahadevan and Rasika Shekhar. I like the Punjabi theme of this song, which is full of typical Punjabi sounds such as the dhol drums, as well as cool Punjabi lyrics. I think this song will especially appeal to the Punjabi listeners, which is oozing with up-tempo beats that make this a great number.
Before bringing this review to a close, I must say that the soundtrack to 2 States was an enjoyable listen and will especially appeal to the youth. Although a few songs could have been even better, nevertheless; it can be said with confidence that Shankar-Ehsaan-Loy have delivered a refreshing album that has been composed with a great deal of thought. I think this is definitely the best Bollywood soundtrack to release this year and I strongly recommend that you check it out!