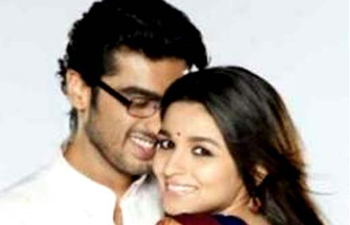 Arjun Kapoor and Alia Bhatt's 2 States, directed by Abhishek Verman, is scheduled to release next year on April 18. The film, which is based on Chetan Bhagat's book of the same name, will have Alia Bhatt playing a Tamilian girl and Arjun Kapoor as a Punjabi boy.
Co-produced by Karan Johar and Sajid Nadiadwala, 2 States is a story of a Punjabi boy and a Tamilian girl in love, facing and fighting the obstacles of their religious differences with their families. Arjun will be the Punjabi hunk Krish and Alia will be an intelligent southie Ananya Swaminathan.
Reportedly, actress Amrita Singh has been roped in to play Arjun Kapoor's Punjabi mother, whose goal is to get her son married to the best and richest Punjabi girl in town.
Here is the first look of the duo in the film. While Arjun looks like the hot Punjabi, Alia looks cute in her South style. Bollyspice will keep you updated about this film and much more!