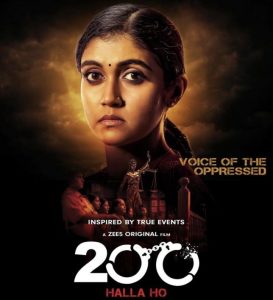 200 Halla Ho (Zee5)
Directed by Sarthak Dasgputa/Alok Batra
Just the fact that we get to see the ever-dependable Amol Palekar back doing what he knows best after so long, is reason enough to watch this real-life gruesome melodrama about a mass rapist brought to task by a horde of angry women. Angry DALIT women. The difference is vital and it changes the narrative in life as it does in art.
200 Halla Ho is too rough at the edges to be considered art. When we see shouting hooting wailing women swoop down on the culprit armed with knives and red chillies, we are forced to recall Ketan Mehta's neo-classic Mirch Masala. The women here are not half as beautiful as the ones in Mirch Masala….yeah yeah, I can see those scary women throwing the Dalit card at me.
"Jaati ki kyon na yaad dulaaon jab humein har pal hamari auqat ki yaad dilayee jaati hai," Rinku Rajguru playing a plucky protester asks.
That's precisely what Amol Palekar's character, a retired judge attempts to do for a major part of the narrative. He abhors the idea of playing the Dalit card although he is repeatedly reminded of where he comes from . Eventually he surrenders to the collective will, fighting for a cause that concerns the entire community .
It is a powerful character played much much thought and restrain by Palekar. Not much of these qualities are discernible in the film pe se. 200 Halla Ho means well. But the vision and execution do not match the notion of justice for disempowered women who, in a true-life incident, were raped repeatedly and en masse in a slum by a political goon.
Deejay Sahil Khattar is chilling as the mass rapist. His uncouth arrogance is so revolting as to make him an emblem of all that is toxic about Indian masculinity. I wish some of his crude violence against women was shown a little more discreetly. But then the propounders of social change would argue that the ugly truth about the treatment of downtrodden women needs to be shown with a stark brutality rather than a dainty discreetness.
I cannot argue that.
Thia film doesn't care to walk that thin or think line between artistic aestheticism and unvarnished dogma . The co-directors jump into the fire and watch the narrative crash and burn. You will find an assortment of clichéd villains here: the corrupt policeman, the sleazy opportunistic politician, the vile eminently murder-worthy villain, the socialite-politician(played with a curvy ambiguousness by Flora Saini).Indraneil Sengupta and Barun Sobti suffer in underwritten roles.The injustice done to them …some other time.
Ironically for a film about empowering the female sex, the women are mostly depicted in the shadows except for Rinku Rajguru as a young Dalit women unwilling to take the injustice lying down, and veteran Sushma Despande who in Ajji went around castrating rapists. Here too she is in a mood for drastic revenge . Though here they never really find the mob-massacred rapist's missing penis.When the social system stinks, details are irrelevant.