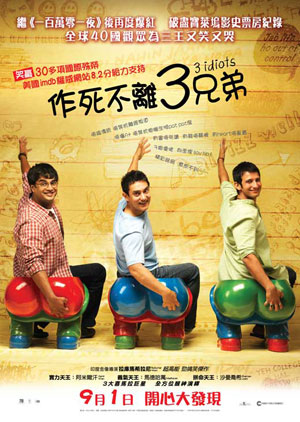 3 Idiots from the Vinod Chopra Films camp has broken all records to become the highest grossing film in the overseas market.
The Aamir Khan-Sharman starrer has won the hearts of the Chinese audience, who cannot get enough of the Phunsuk Wangdu and the Ranchodas Chanchad characters played by Aamir. 3 Idiots, which released in India in 2009, was released in China just two weeks back with only 900 prints. The movie has become an instant hit there and has collected around Rs 11 Crore in just 14 days.
A delighted CEO, Sameer Rao, talking on behalf of Vinod Chopra Films, said "Mainland China is the second biggest film market after the US but it is very difficult to enter because only twenty foreign films can be screened in China in a year. After its success in just two weeks, the VCF camp has built high hopes that the movie will have a very long run in the Chinese market. Anil Arjun, the CEO of Reliance Media Works, said, "The message in the film has been the pull factor in the film. Such a great response from a non-traditional territory like China is a welcome phenomenon for the Hindi film Market".
This extra ordinary success in the Chinese Market has made 3 Idiots the highest grossing movie in the overseas market with a total of Rs 121 Crore. The success of 3 Idiots has opened doors to other Indian movies in the Chinese market. Audrey Lee, the owner of the Chinese Distributor Firm Ekdo Films, said "Films from various countries are given a chance to be released in China under the quota system. As 3 Idiots is doing very well, Indian Films now have a better chance to be released in China. The local distributors too shall try hard as they have seen the response an Indian film can get".